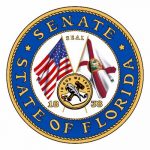 Senate Democratic Leader Audrey Gibson (D-Jacksonville) issued the following statement on the conclusion of the 2019 legislative session:
"I'm extremely proud of the outstanding efforts of our Senate Democratic Caucus that stood united because we actually listened to the people.
"We voted to repeal the ban on smokeable marijuana. We supported tax holidays for hurricane and back-to-school supplies – until it was saddled with more giveaways to charter schools. We helped clear the way for the state's lawsuit against pharmaceutical companies complicit in the opioid crisis. And we poured more money into preserving our environment, especially water cleanup and Everglades restoration. We did all this, and much more.
"Unfortunately, the ideology embraced by less than half of Florida's voters drove much of the policy changes we saw this legislative session. Nowhere was this more evident than in the final weeks. It's a sad commentary on how far the legislature has strayed from its core responsibility to represent the many voices of the people throughout our diverse state. That's why Senate Democrats filed amendments, asked the questions, and debated. That's why we fought.
"The Republican-led legislature stripped the power of citizens to seek change through ballot initiatives, they stymied the straightforward pathway Floridians had approved by which felons had regained the right to vote, and they ignored the hundreds of students, educators and parents who had said in one clear and unmistakable voice: Do Not Arm Our Teachers.
"These same lawmakers turned their backs on those who have sought refuge in our state, the thousands of immigrants who are part of the fabric that make Florida work. Our state and local government agencies are now in service to ICE, obliged to tear families apart and hand them over for deportation.
"Even as the voices of the people were trampled, so too was our constitution, as voucher legislation siphoning public money from traditional public schools to give to private, religious ones, cleared both chambers and appears destined for the newly remade Supreme Court.
"Although this session has ended, we will continue to fight for better policies and a good quality of life for all."