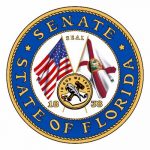 Florida Senate Majority Leader Kathleen Passidomo (R-Naples) today released the following statement regarding the successes of the 2019 Florida Legislative Session.
"The 2019 Legislative Session began with a transformative vision to create a stronger, brighter Florida and build on successes of our state. Together, the Senate Republican Caucus worked to make this vision a reality for our great state. Our Caucus addressed the devastation and continued recovery needs of our Panhandle communities due to Hurricane Michael. We prioritized school safety by emphasizing the importance of mental health, expanded Florida's commitment to parent-directed educational choice, elevated our traditional neighborhood public schools, and invested in workforce education. Republicans crafted and passed a balanced budget that funds critical environmental priorities, including $686.8 million for water quality and protection, while still providing Florida families and businesses with $121 million in broad-based tax relief. Senate Republicans are bringing Florida's once antiquated health care system into the globalized market, improving Floridians' access to care and lowering health care expenses. We stood true to our values in upholding the rule of law in order to ensure the public safety of all Floridians."
"These accomplishments are a reflection of the hard work and dedication the Senate Majority demonstrated this session in order to best serve the needs of the constituents in each of our districts. I look forward to seeing these good bills positively impact Floridians as they are signed into law in the upcoming weeks. I am blessed to have had the opportunity to work alongside my fellow Republican colleagues and for the collaborative, bipartisan work that resulted from reaching across the aisle, and across the rotunda with the House of Representatives."
2019-2020 Balanced Budget
The balanced budget (Senate Bill 2500) prioritizes education, hurricane recovery and Florida's environment while replenishing state reserves to more than $3.4 billion, which can be used in future times of need in our state. The 2019-20 budget increases funding for K-12 Education by $783 million. The budget also increases the total state investment in Hurricane Michael Recovery to more than $1.8 billion and invests $686.8 million toward protecting the environment and improving water quality.
Hurricane Recovery
Working to address the ongoing recovery needs of our Panhandle communities devastated from the Category 5 storm, Hurricane Michael, the Florida Senate ensured a total state investment of $1.859 billion toward Hurricane Michael relief and recovery. We dedicated significant funding to restore critical life-safety services to Panhandle communities, build and provide affordable housing options for displaced families, rebuild local government infrastructure, repair critical county and municipal roads, and rebuild education facilities. Our K-12 Education budget includes additional funding to cover losses due to declined enrollment in impacted counties, and we also provide funding to restore recreational opportunities and provide technical support for local governments to secure reimbursements.
Education
Senate Bill 7070, K-12 Education, expands educational choice and opportunity for families and elevates neighborhood public schools. The bill creates a new scholarship program, the Family Empowerment Scholarship, designed to serve our low income families and reduce the Florida Tax Scholarship waitlist. This legislation also restructures the current Best and Brightest Teacher's Program by eliminating SAT/ACT requirements, and instead focuses the financial incentive program on recruitment, retention, and recognition of Florida's top teachers and principals. Other components of the bill include expanding options for teacher certification exams, enhancing support for the Center for Community Schools program to support neighborhood public schools with unique community needs, providing school districts with greater flexibility when it comes to locally funded facility construction, and providing increased flexibility for Schools of Hope.
Senate Bill 7030, Implementation of Legislative Recommendations of the Marjory Stoneman Douglas High School Public Safety Commission, builds on the school safety and security foundation established in Senate Bill 7026 (2018) by implementing the school safety and security recommendations made by the non-partisan, multi-jurisdictional Marjory Stoneman Douglas High School (MSDHS) Public Safety Commission. The legislation also strengthens accountability and compliance oversight authority. Additionally, this legislation provides schools with more resources and tools for mental health services. Senate Bill 7030 expands the Mental Health Assistance Allocation to include mental health awareness training for school staff. It also includes programs aimed at reducing the likelihood of at-risk students developing behavioral and mental health disorders as well as programs to assist students in dealing with trauma and violence.
House Bill 7071, Workforce Education, promotes alternative education paths for career development. The bill creates an 18-credit high school graduation pathway with a focus on vocational, technical, and career training. This will allow high school students to pursue more vocational and technical education rather than a traditional, college-prep curriculum.
Tax Relief
House Bill 7123, Taxation, will deliver broad-based tax relief to families and businesses across the state. It offers a tax savings for Florida families preparing for the upcoming 2019 Hurricane Season and the 2019-2020 school year, as well as several tax relief benefits related to hurricane response and recovery.  In total, the bill provides approximately $121 million in tax relief.
Environment
The Senate is investing $686.8 million toward protecting the environment and improving water quality. The 2019-20 budget dedicates $367 million for Everglades restoration, $100 million in springs restoration, $25 million in septic-to-sewer and wastewater treatment, $33 million for Florida Forever, and $50 million for beach restoration.
To mitigate and prevent red tide and harmful algal blooms we have significantly increased our funding in these areas including $4.2 million for red tide research, $10.8 million towards the blue-green algae task force, and $10 million is for innovative technology grants for harmful algal blooms. In addition to these funds, Senate Bill 1552, Florida Red Tide Mitigation and Technology Development Initiative, aims to build on the significant investments already made by the legislature to control and alleviate red tide blooms in Florida by providing a $3 million annual appropriation for the next six years dedicated to red tide research and mitigation. The Florida Senate continues to invest in protecting Florida's unique environment and water resources.
Prescription Drug Importation
House Bill 19, Prescription Drug Importation Programs, allows Floridians to take advantage of the lower prescription drug prices paid in other countries. Americans pay the highest prescription drug costs in the world, and costs are rising four times as fast as overall inflation. The bill provides authority for certain state agencies to shop for lower priced drugs on the Canadian and International market, and to import those drugs for use in state programs, if approved by the federal government. House Bill 19 establishes two programs to safely import Food and Drug Administration (FDA) approved prescription drugs into the state: The Canadian Drug Importation Program and the International Drug Importation Program. This legislation will bring safe, affordable prescription drugs to Floridians.
Sanctuary Cities
Senate Bill 168, Sanctuary Cities, seeks to ensure that state and local entities and law enforcement agencies cooperate with federal government officials to enforce, and not obstruct, immigration laws. The legislation prohibits sanctuary jurisdictions and requires state and local entities to comply with federal immigration detainers when they are supported by proper documentation.
Firefighter Cancer Coverage
Senate Bill 426, Firefighters, expands financial coverage for firefighters diagnosed with cancer, and ensures beneficiaries are provided for in the event of death. Cancer is the leading cause of death among firefighters in the United States, as firefighters are regularly exposed to dangerous toxins while on the job. This bill will help alleviate economic burdens for families and those who risk their lives to help protect our community.
For more information, please visit FLSenate.gov.