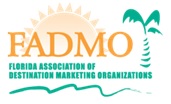 The Florida Association of Destination Marketing Organizations (FADMO) celebrates Florida's tourism industry this week during National Tourism and Travel Week (May 5-11).
The impact of tourism to Florida's economy cannot be ignored. Florida's $112 billion tourism industry supports 1.4 million jobs and helps Florida families save $1,549 each year in taxes. More than one-fifth of all the sales tax revenue generated in Florida comes from a strong tourism industry, which funds a significant portion of Florida's budget. All of this is made possible through the tourism marketing and promotion efforts of local tourism promotion agencies and VISIT FLORIDA.
VISIT FLORIDA, Florida's tourism marketing agency, is a public-private partnership that works with local communities to market their unique offerings to out-of-state visitors. Florida is more than its theme parks and beaches, and VISIT FLORIDA ensures visitors know all Florida has to offer them. Yet, despite the benefits of tourism marketing and the economic impact of this industry, VISIT FLORIDA faced scrutiny from lawmakers this legislative session and possible elimination. In the final days of Florida's 2019 Legislative Session, the Florida Legislature provided $50 million for VISIT FLORIDA to operate for one more year, until June 30, 2020.
"Florida's tourism industry is crucial to our state's economy. It means jobs, economic growth and much more to countless tourism-reliant small businesses in communities around Florida," said Robert Skrob, FADMO Executive Director. "While we are thrilled the Florida Legislature provided funding to VISIT FLORIDA this year, we must continue to advocate for full funding at $76 million and reauthorization of the organization. Every dollar we put into VISIT FLORIDA brings our state a two-dollar return on investment, and we hope our state leaders will continue to see the value of this organization."
Organizations and local business throughout Florida rely on the opportunities VISIT FLORIDA provides to help attract customers and sustain year-round business. This week, communities around the state are celebrating the positive impacts of tourism and tourism promotion during National Tourism and Travel Week, including:
On Tuesday, Visit Tampa Bay is hosting a luncheon that will include local entertainment, guest speakers and industry awards, and on Wednesday the organization will host an appreciate event for partners by inviting them to attend a Tampa Bay Rays baseball game.
On Tuesday, VISIT ORLANDO will announce a proclamation from Orange County Mayor Jerry Demings celebrating the importance of tourism to the Central Florida region and on Thursday will host a luncheon to share trends and innovations shaping the tourism landscape.
This Wednesday, the Daytona Beach Area Convention and Visitors Bureau and Visit West Volusia will join together with the Lodging and Hospitality Association of Volusia County for a breakfast featuring a panel discussion about what is new and upcoming for tourism in Volusia County, and the positive economic impact tourism has on local businesses.
Also on Wednesday, Visit Tallahassee will host a luncheon for our local industry partners and this week will be rolling out a local resident engagement program aimed to increase their knowledge of local attractions, restaurants and events.
On Thursday, the New Smyrna Beach Visitors Bureau will a luncheon highlighting the benefits of cultural tourism and the important role the arts play in attracting visitors to the community.
Also on Thursday, Destination Panama City will host a grand opening event of their new Visitors Center following the destruction of the previous location during Hurricane Michael. The event will feature a ribbon cutting, food, children's activities and live music.
On Friday, Discover the Palm Beaches will be holding a Travel Rally Day to celebrate the area's tourism industry and will also be doing a supply drive for the Boys & Girls Club of Palm Beach County.
The Greater Miami Convention & Visitors Bureau celebrates National Travel and Tourism Week throughout the whole month of May and they kicked off the festivities May 1 with a State of Industry Address. They will also be presenting plaques to local elected leaders who have supported tourism and are launching a social media campaign regarding the value of tourism.
Last week, the Lee County Visitor & Convention Bureau held their annual Lee County Travel Rally, which welcomed 1,500 members of the community and featured the unique local hotels, restaurants, attractions, businesses and more that Lee County has to offer.
The FADMO serves as the single, unifying voice of Florida's destination marketing organizations (DMOs) and represents the interests of 55 official county DMOs that promote their communities throughout the world. For more information on FADMO, visit FADMO.org.