On Saturday, May 4, Flagler College handed out diplomas to 422 seniors at the St. Augustine Amphitheatre, including 36 locals from St. Augustine and Ponte Vedra Beach.
There was also one graduate from the Master of Arts in Education, Deaf and Hard of Hearing program: Ferba R. Hines.
Department awards were granted to thirty-three graduates who ranked among the top 10 percent of their class. Outgoing Student Government Association President Colton Neubauer received the President's Award for Leadership and Hasani Malone received the President's Award for Service based on her role in the Black Student Association and Flagler College Volunteers.
Professors Michele Gregoire and Margaret Finnegan were both recognized for their service to the college, as both will retire this year from the faculty. For her years of service to the college, Finnegan was conferred the title of Faculty Emerita by the Board of Trustees.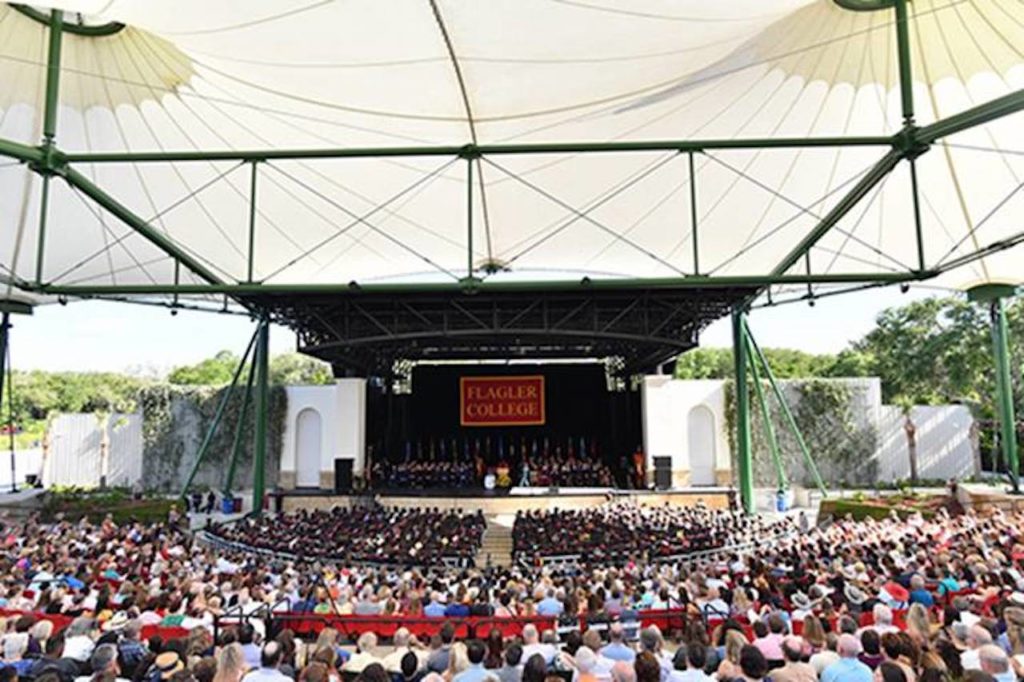 1985 Flagler graduate Dr. Mignonne Pollard, the Governor Jerry Brown appointed outreach manager for California Complete Count Census 2020, presented to the students the idea of crossing bridges and overcoming obstacles. "Together, let us create a vision for the world," she said.
In a new tradition, Colin Bigelow gave a senior class speech. He charged his peers to not waste this blessing before them and to do the hard things that must be done. He said to "Do it out of compassion. Do it out of empathy. Do it out of love."
The new alma mater, "Here We Stand, Together," created for the college's 50th anniversary, closed the morning's commencement exercises.
On Saturday afternoon, a second commencement ceremony for the Public Administration program graduated 10 students of the 2019 cohort in the Flagler College Lewis Auditorium. This program encompasses the needs of public sector professionals with courses in public policy, budgeting, management, human resources and grant writing.
Program Director Joel Bolante, Ph.D., said, "Although small in numbers, this graduating cohort finished strong and with enthusiasm as they tackled some of the more difficult courses in the program during their last semester."
Flagler College-Tallahassee held commencement exercises on Sunday, May 5. The ceremony was held at 2 p.m. at the Lee Hall Auditorium on the campus of Florida A&M University. The Mayor of Tallahassee, John Dailey, gave the commencement address to the accounting, business administration, elementary education and strategic communication students.
About Flagler College
Celebrating its 50th anniversary this year, Flagler College is a small private, independent college located in St. Augustine, Fla. The college offers 33 majors, 39 minors, and a master's degree in Education of the Deaf/Hard of Hearing. Flagler College has an enrollment of about 2,500 students, as well as an offsite campus in Tallahassee, Fla. U.S. News & World Report and The Princeton Review regularly feature Flagler as a college that offers quality education at a relatively low cost. A Flagler education is less than half the cost of similar private colleges, and competitive with many state universities. A relatively young institution (founded in 1968), Flagler College is also noted for its historic beauty. The centerpiece of the campus is the former Hotel Ponce de Leon, a National Historic Landmark opened in 1888 by railroad pioneer and Standard Oil co-founder Henry M. Flagler. For more on Flagler College, visit flagler.edu.