Graham is one of five finalists to compete for the 2020 statewide Teacher of the Year
Division of Public Schools Chancellor Jacob Oliva today surprised Dr. Dakeyan Graham, from C. Leon King High School in Hillsborough County, with the news that he is one of five Teacher of the Year finalists. The statewide Teacher of the Year will be announced at the annual Florida Teacher of the Year Gala July 18 in Orlando.
"Congratulations to Dr. Dakeyan Graham on being selected as one of five 2020 Teacher of the Year finalists," said Commissioner of Education Richard Corcoran. "The fact that Dr. Graham has repeatedly earned superior ratings from the Florida School Music Association is a testament to his talent and ability to instill in his students a passion for the magnificent art of musical performance. He possesses many qualities that make him an excellent role model, and it is a pleasure to recognize him."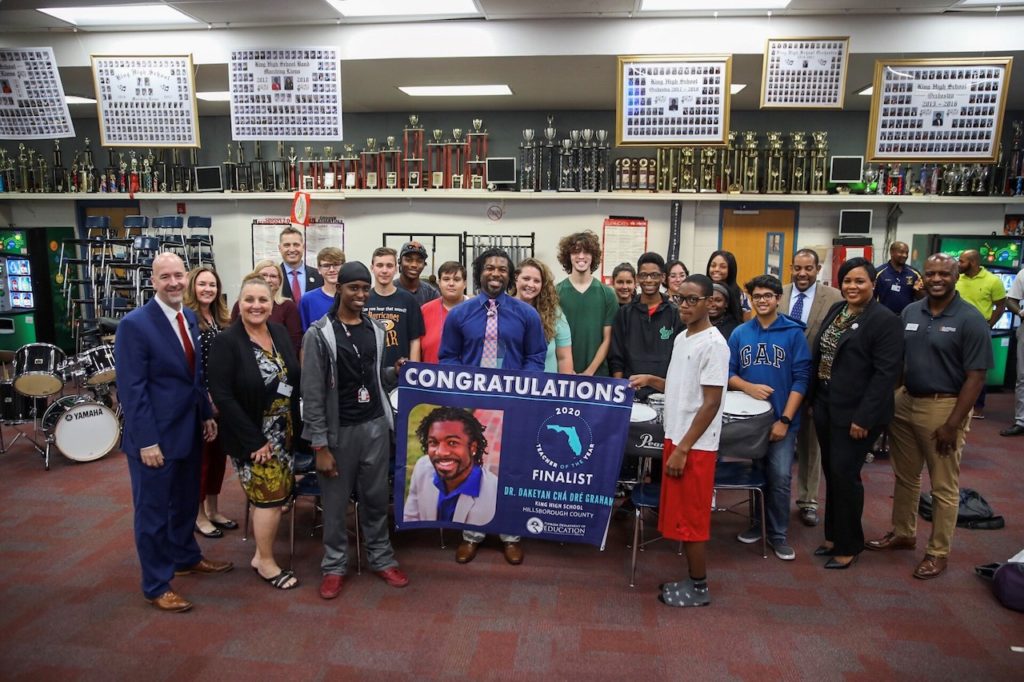 Dr. Dakeyan Cha Dre' Graham serves as the Director of Instrumental Studies at his alma mater, C. Leon King High School, where he has been an educator for 10 years. Throughout his time with Hillsborough County Public Schools, his students have demonstrated determination and focus, earning an opportunity to perform in the prestigious Carnegie Hall. He founded the Eastern Coalition of Music Educators; serves as president of the Hillsborough Secondary Music Council; and is a member of the Florida Music Educators Association/Florida Bandmasters Association/Florida Orchestra Association, Phi Mu Alpha Sinfonia, Inc. and the Collegiate Music Educator's National Conference. In his community, he serves on the board of Instruments of Change, a non-profit organization that works to infuse music education programs into Title I elementary schools; as worship leader and choir instructor at CityLife Church; and as an instructor at two martial arts centers.
Dr. Graham holds a Bachelor's and Master's in Music Education (University of Florida), a Master's in Educational Leadership (Concordia University) and a PhD in Music Education (University of South Florida).
This year's five finalists were chosen from more than 176,900 public school teachers throughout the state. After each school district selects its Teacher of the Year, a selection committee representing teachers, principals, parents and the business community reviews each district application on the basis of outstanding ability to teach and communicate knowledge of the subject taught, professional development, philosophy of teaching, and outstanding school and community service.
The Florida Teacher of the Year Program is made possible by generous sponsors: Florida Prepaid, State Farm, Helios Education Foundation, Florida Blue, Wells Fargo, Voya Financial®, Florida Power and Light Company, Publix Super Market Charities, Universal Orlando Resort, Blue Man Group and Herff Jones.
For more about the Florida Teacher of the Year program, please visit Florida Teachers Lead.
For more information about the Florida Department of Education, visit fldoe.org.