Swezey is one of five finalists to compete for the 2020 statewide Teacher of the Year
Division of Public Schools Chancellor Jacob Oliva today surprised Shane Swezey, from Oak Park School in Sarasota County, with the news that he is one of five Teacher of the Year finalists. The statewide Teacher of the Year will be announced at the annual Florida Teacher of the Year Gala July 18 in Orlando.
"Shane Swezey is an example of an educator who goes above and beyond to meet the individual needs of his students, all of whom have special needs," said Commissioner of Education Richard Corcoran. "As a music therapy teacher, his positive effect on students is measured in a less traditional way, and it is telling that he has helped his students significantly increase their positive behaviors, such as eye contact, verbalizations and peer interaction. He has empowered his students to express their creativity, and we are delighted to name him as a 2020 Teacher of the Year finalist."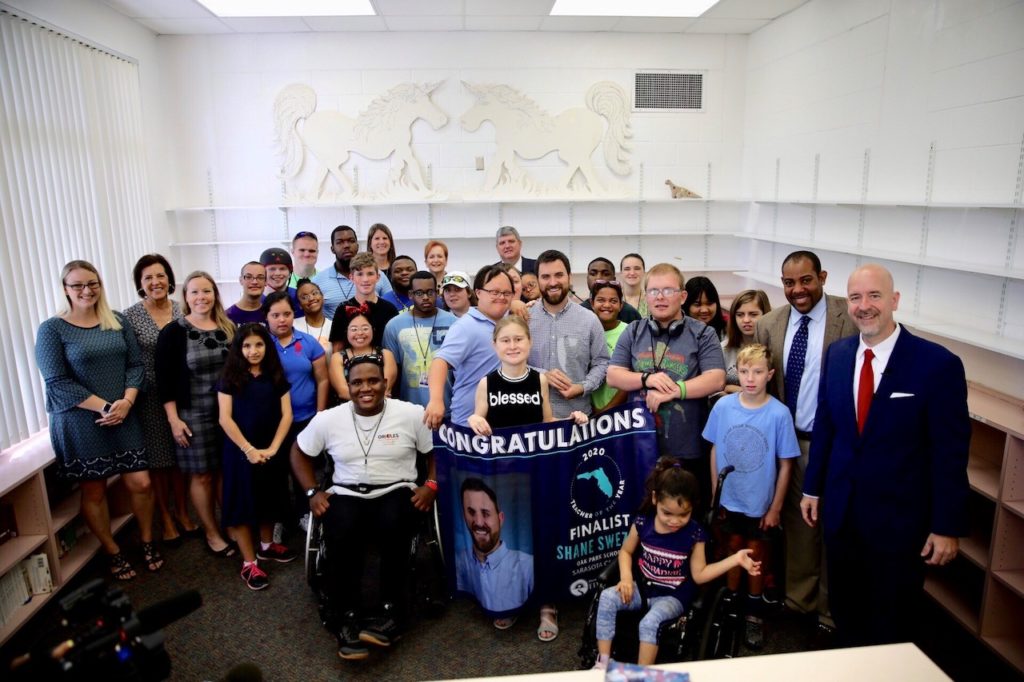 Swezey has provided music education and therapy services to students ages 5 to 22 at Oak Park School, the district's center school for special needs, since 2013. He originally studied aerospace engineering at Florida State University, but a change of heart led him to pursue a bachelor's degree in music therapy and later a master's in music from the University of Kentucky.
As a staunch advocate for students with special needs, Swezey encourages building on students' abilities instead of focusing on their disability. Known for being able to quickly build rapport and engage with children, Swezey uses highly creative methods to motivate students and encourage learning gains such as increasing eye contact and interacting with peers. Outside of the classroom, he supports his students and fellow educators by serving as chairperson of the Positive Behavior Interventions & Support; president of Shared Decision-Making Team; and a member of the Instructional Leadership Team.
This year's five finalists were chosen from more than 176,900 public school teachers throughout the state. After each school district selects its Teacher of the Year, a selection committee representing teachers, principals, parents and the business community reviews each district application on the basis of outstanding ability to teach and communicate knowledge of the subject taught, professional development, philosophy of teaching, and outstanding school and community service.
The Florida Teacher of the Year Program is made possible by generous sponsors: Florida Prepaid, State Farm, Helios Education Foundation, Florida Blue, Wells Fargo, Voya Financial®, Florida Power and Light Company, Publix Super Market Charities, Universal Orlando Resort, Blue Man Group and Herff Jones.
For more about the Florida Teacher of the Year program, please visit Florida Teachers Lead.
For more information about the Florida Department of Education, visit fldoe.org.