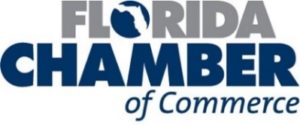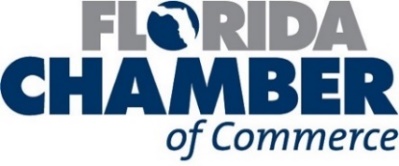 The Florida Chamber of Commerce is celebrating May as World Trade Month, and is reinforcing the important role global trade plays in creating jobs, growing opportunities for small businesses and increasing foreign direct investment.
"During World Trade Month, it is important to recognize that Florida's geography, history and cultural connections have served as a strong foundation for strong trade relationships," Eric Green, CEO, JAXPORT and Florida Chamber Board of Governor member said. Read more from Green by clicking here.
As the third largest state in the nation, and with a $1 trillion GDP, Florida is made for trade. With 15 ports located in Florida, the economic impact of trade is undeniable:
1 in 5 Florida jobs (more than 2.5 million total) depend on trade,
Florida is ranked 8th in origin exports,
40 percent of Florida origin exports are destined to countries which the U.S. has a trade agreement,
Florida is ranked 3rd in "export intensity" – exporting 37 percent of manufactured goods,
61,000+ Florida companies export,
Florida exports over $6.5 billion in agricultural products to over 170 countries.
"Florida is not just a great place to live and do business, but has an incredibly diversified economy" said Bob Grammig, Chair, Florida Chamber of Commerce and Partner, Holland & Knight. "By expanding Florida's role as the global hub for trade and logistics, we are creating jobs, attracting and retaining talent and providing more opportunities for businesses who want to grow or expand in our state."
The Florida Chamber of Commerce has a long-standing history of supporting free trade, expanding international trade and investment opportunities for Florida's business community, advocating for fair and equitable market access for Florida-origin exports abroad, and eliminating barriers that are harmful to Florida's competitiveness as a global hub for trade.
Consider the Economic Impacts of Trade Throughout Florida:
On March 18, Port Canaveral officially began construction of a $150-million terminal that will create nearly 4,000 permanent jobs.
The Port of Pensacola has expanded monthly services to the eastern Mediterranean, as well as Central and South Africa.
Port Panama City recently completed a 100,000-square-foot expansion to their Distribution Warehouse, bringing in an estimated 400 jobs.
Recent available data shows Tallahassee had a total of $241,077,190 worth of exports.
Jacksonville ranks Florida's No. 1 container port complex by volume, offering worldwide cargo service aboard the world's major shipping alliances with direct service to Asia, Europe, Africa, South America, the Caribbean and other key markets.
Recent available data shows Orlando and Daytona areas had a combined total of $3,487,086,274 worth of exports.
Most recent available data show Gainesville had a total of $292,132,835 worth of exports.
Port Tampa Bay generates an annual economic impact of $17.2 billion, supporting 85,000 direct, indirect and related jobs.
In November 2018, the Port of Palm Beach completed its "Berth 17 Project", which will have an economic impact of $19 million per year and create 60 direct and indirect jobs.
Port Everglades' total economic activity is more than $30 billion, impacting over 230,197 jobs including those who work for companies that provide direct services to the port.
Recent available data shows Naples and Fort Myers areas had a combined total of $882,669,932 worth of exports.
PortMiami contributes more than $41 billion annually to the South Florida economy and helps provide direct and indirect employment for more than 324,000 jobs.
In December, the Florida Chamber launched the Business Development and Trade Mission to Ireland and the United Kingdom. This week-long trade mission was designed to provide participants the opportunity to meet with potential customers and partners who will build understanding and export capability in two very dynamic markets. Through seminars and events hosted by our overseas partners, the Florida Chamber is one step closer to ensuring Florida remains competitive in a global marketplace.
Additionally, members of the Florida Chamber's International Program will travel to Washington, D.C., next week to encourage Florida's Congressional Delegation to support Florida job creators, and to work to ensure that trade continues to benefit the U.S. and Floridians.
The Florida Chamber of Commerce is the voice of business and the state's largest federation of employers, chambers of commerce and associations, aggressively representing small and large businesses from every industry and every region. The Florida Chamber works within all branches of government to affect those changes set forth in the annual Florida Business Agenda, and which are seen as critical to secure Florida's future. The Florida Chamber works closely with its Political Operations and the Florida Chamber Foundation. Visit FloridaChamber.com for more information.