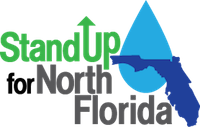 Stand Up North Florida Chair Steve Southerland urges Governor
DeSantis to sign SB 796, which will improve Florida's power grid.
Former Congressman Steve Southerland, Chair of Stand Up North Florida, today made the following statement regarding SB 796:
"We are so pleased the Legislature has sent this important bill to Governor DeSantis's desk. Those of us in the Panhandle are still recovering from Hurricane Michael, and we remember well how vital it was to have our power back on soon after the storm. With our entire state vulnerable to hurricanes every year, it just makes good sense to take this step to invest in infrastructure that will make our power grid more resilient. I applaud the legislature for taking the long view on this issue and implementing this program so that stronger infrastructure will shorten storm outages. The strength of our electrical system is directly tied to the strength of our economy and the health and well-being of families and small businesses. Stand Up North Florida urges Governor DeSantis to sign this bill, and we look forward to the benefits our region and the entire state will reap from it well into the future."
For more information on Stand Up North Florida, please visit StandUpNorthFlorida.com.