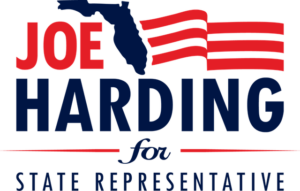 With very strong local support, Joe Harding has surpassed
the $40,000 mark in his bid for House District 22.
The Joe Harding Campaign today announced that it has raised more than $40,000 since he entered the race for Florida House District 22 in February. He continues to enjoy particularly strong support from local donors, with the overwhelming majority of his contributions coming from inside District 22. The seat is currently held by Charlie Stone, who faces term limits.
"I'm very grateful and encouraged by the early support we're seeing for our campaign," said Harding. "It's extremely important to me that the funds we raise come from right here in District 22. These are the people I hope to serve, and they're the folks who know me best. I can't wait to keep connecting with voters and sharing our message of more jobs, lower taxes, and increased education choices."
Paid by Joe Harding, Republican, for State Representative