Florida Polytechnic University researchers have developed a new cutting-edge technology that aims to simplify and make more affordable the detection of citrus greening in groves throughout Florida and beyond.
"Citrus greening has posed a terrible threat to crops locally and worldwide as it has no cure," said Dr. Muhammad R. Abid, assistant professor of computer science and lead researcher.
The method consists of a Citrus Greening Detection (CiGID) algorithm performed via computer vision techniques to extract sub-images of fruit from a tree to determine if they show signs of citrus greening infection. A sub-image works by converting images to true-color for display purposes.
The CiGID algorithm would be incorporated into camera systems installed on general vehicles used for tree monitoring in groves. The cameras would capture images that the algorithm would use to automatically identify if the fruit is infected.
"Normally an expert needs to come to the groves to check every tree identified as possibly infected," said Charles Soini '19, a computer science graduate who's been working on the research for the last six months. "This new system does that work, so the expert only needs to check the ones already identified as sick and confirm it."
Soini explained that the method was tested using a Google script that produced around 93 percent validation accuracy by sampling around 60 test images of both infected and non-infected fruit and checking if the correct result was produced. The system was also tested manually using a different set of 50 images of citrus trees, with an accuracy of 80 percent.
"This method is unique and novel due to its simplicity," added Abid. "Our intention is to use less expensive hardware to reduce costs. We don't use any infrared device, 3D cameras, or any sophisticated costly technology. We rely on simple, affordable cameras to get video or pictures to feed the algorithm."
Citrus greening is one of the most serious citrus plant diseases in the world, according to the U.S. Department of Agriculture. Infected trees produce fruits that are green, bitter, and unsuitable for sale as fresh fruit or juice. A 2018 report from the Florida Department of Citrus states that there were 750,000 acres of citrus groves in 2004. By last year, those numbers had dropped to 455,000 acres. That's a decrease of 40 percent.
The research, which also included the collaboration of computer science graduate Sofianne Fellah '18, was presented at the International Conference on Information System and Data Mining held at University of Houston in Texas in April. It will also be published in the International Conference Proceedings Series by the Association for Computer Machinery (ACM).
Soini said the research has provided him with an invaluable learning experience at Florida Poly. "As a student, I never expected to produce research worthy of publication without beginning to pursue a master's degree or higher," said Soini. "Being able to not only research a topic so relevant, but also to reach the point where my research is published feels incredible."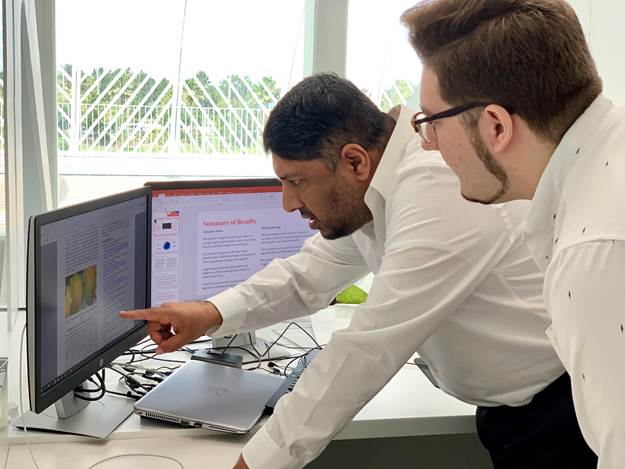 Florida Polytechnic University assistant professor Dr. Muhammad R. Abid and recent graduate Charles Soini '19 discuss their research on citrus greening detection. Their paper was presented at the International Conference on Information System and Data Mining held at University of Houston in Texas in April. Photo Credit: Florida Polytechnic University
For the most recent university news, visit Florida Poly News.
About Florida Polytechnic University
Florida Polytechnic University is an accredited member of the State University System of Florida, dedicated exclusively to STEM (Science, Technology, Engineering and Mathematics). The University is a powerful economic engine within the state of Florida, blending applied research with industry partnerships to give students an academically rigorous education with real-world relevance. The campus is located in Lakeland, Florida along the I-4 High Tech Corridor. Connect with Florida Poly.