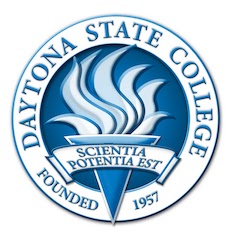 Daytona State College's School of Education was recently recognized with two notable achievements: according to the Florida Department of Education, the Bachelor of Science in Exceptional Student Education program is ranked 1st in the state, and alumna Emily Budzilek was named the 2019 First Year Teacher of the Year winner.
The Bachelor of Science in Exceptional Student Education program achieved this ranking based on the 2019 Annual Program Performance Report (APPR) which includes factors such as retention, placement, and standardized assessment scores. With a score of 3.70 (out of 4.00), DSC is tied for the top spot along with the University of Central Florida, Florida Gulf Coast University, and Nova Southeastern University.
Emily Budzilek, a kindergarten teacher at Palm Terrace Elementary School, received the elementary level 2019 First Year Teacher Award. The FUTURES Foundation for Volusia County Schools selected her from 51 nominees who were nominated by their school principal and displayed outstanding teaching based on standards established by Volusia County Schools.
Daytona State is also proud of the many alumni who were nominated for the award:
Jamie Grove, Blue Lake Elementary School
Katina Hurst, Freedom Elementary School
Katie Hazel, McInnis Elementary School
Tayla Kelly, Pierson Elementary School
Haley Seay, Port Orange Elementary School
Mallory Smith, South Daytona Elementary School
Christopher Collier, Timbercrest Elementary School
Porscha Morrow, Turie T. Small Elementary School
Samantha MacHardy, Woodward Elementary School
Kelly-Ann Hammerdorfer, Pine Ridge High School
In addition to our BSED alumni, two EPI graduates were also nominated:
Dusty Buck, Pine Trail Elementary School
Jillian Janiec Larriviere, Forest Lake Elementary School
"For more than 10 years, we have been committed to producing highly effective teachers and are thrilled to receive recognition for our graduates' and faculty's hard work!" said Dr. Amy Ringue, Academic Chair for the School of Education. Daytona State College offers seven Bachelors of Science in Education Programs, pathways for those already holding a four-year bachelor's degree to earn a 5-year Florida Teaching certificate, and courses for teacher recertification and reading endorsement.