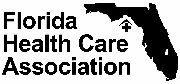 Florida Health Care Association (FHCA) is pleased to recognize 17 skilled nursing centers and two assisted living facility members across Florida which earned a 2019 Silver – Achievement in Quality Award from the American Health Care Association and National Center for Assisted Living (AHCA/NCAL). The award is the second of three distinctions possible through the AHCA/NCAL National Quality Award Program, which spotlights providers across the nation who have demonstrated their dedication to improving quality of care for residents and patients in long term and post-acute care. Florida earned more Silver National Quality Awards than any other state in this award cycle, with a total of 56 National Quality Award recipients recognized thus far for 2019.
"Being recognized with the Silver National Quality Award is a significant accomplishment for these centers," said Emmett Reed, FHCA Executive Director. "We're proud of our members for their dedication to assessing and implementing approaches that result in better care outcomes. They're making a positive impact on the lives of their residents and helping their staff excel in quality care delivery."
Based on the National Institute of Standards and Technology's Baldrige Performance Excellence Program, the AHCA/NCAL National Quality Award Program challenges member providers to achieve excellence in quality through three progressive levels—Bronze, Silver and Gold. Members at the Silver Award level develop and demonstrate effective approaches that help improve performance and quality outcomes. The 2019 recipients of the Silver Award can now apply for the Gold – Excellence in Quality Award by further developing comprehensive strategies that meet the demands of the full Health Care Criteria for Performance Excellence.
"These recipients are making a difference for their residents and communities," said Alana Wolfe, Chair of the AHCA/NCAL National Quality Award Board of Overseers. "This award level shows that these providers are setting and reaching quality goals, and I commend them for this outstanding achievement."
The following Florida centers earned the 2019 AHCA/NCAL Silver – Achievement in Quality Award:
Skilled Nursing Centers
Alexander Nininger State Veterans Nursing Home, Pembroke Pines
Baldomero Lopez State Veterans Nursing Home, Land O Lakes
Bartow Center, Bartow
Boca Ciega Center, Gulfport
Coral Bay Healthcare and Rehabilitation, West Palm Beach
Diamond Ridge Health & Rehab Center, LeCanto
Emory L. Bennett Veterans Nursing Home, Daytona Beach
Isle Health and Rehabilitation Center, Orange Park
Miami Jewish Health, Miami
North Beach Rehabilitation Center, North Miami Beach
Parks Healthcare and Rehabilitation Center, Orlando
Pinebrook Care and Rehabilitation Center, Venice
Santa Rosa Health & Rehabilitation Center, Milton
Sylvan Health Center, Clearwater
Taylor Care Center, Jacksonville
The Manor at Carpenters, Lakeland
Winkler Court, Fort Myers
Assisted Living Facilities
Hazel Cypen Tower, Miami
Robert H. Jenkins Veterans Domiciliary Home of Florida, Lake City
These 19 centers, along with Florida's 37 Bronze-Commitment to Quality Award recipients, will be recognized during FHCA's Annual Conference & Trade Show, August 4-8, 2019, at the Hyatt Regency Orlando. Florida Quality Award recipients will then join centers across the country to be formally honored during AHCA/NCAL's 70th Convention & Expo, October 13-16, which also takes place in Orlando.
ABOUT THE FLORIDA HEALTH CARE ASSOCIATION
The Florida Health Care Association (FHCA) is a federation which serves nearly 1,000 members and represents over 500 long term care facilities that provide skilled nursing, post-acute and sub-acute care, short-term rehab, assisted living and other services to the frail elderly and individuals with disabilities in Florida. The mission of FHCA is to advance the quality of services, image, professional development and financial stability of its members. As Florida's first and largest advocacy organization for long term care providers and the elderly they serve, the Association has worked diligently since 1954 to assist its members with continuously improving quality of care and quality of life for the state's growing elder care population. For more information about the Florida Health Care Association, visit fhca.org.