Florida A&M University (FAMU) hosted nearly 20 representatives from across Florida and Alabama for the Summer Summit: Guidance and Advisement Workshop on Wednesday, July 17, 2019.
The event is part of FAMU's efforts to boost its recruitment of higher achieving students and college transfers who have completed their associate's degree. The one-day workshop was organized by the Office of Enrollment Management, which deals with first time in college students and non-degree transfers, and the Office of Transfer Services, which deals with students entering FAMU with AA degrees.
High school guidance counselors and community and state college academic advisers were treated to a full day of information, activities and an insightful look into all that FAMU's 13 colleges and schools have to offer.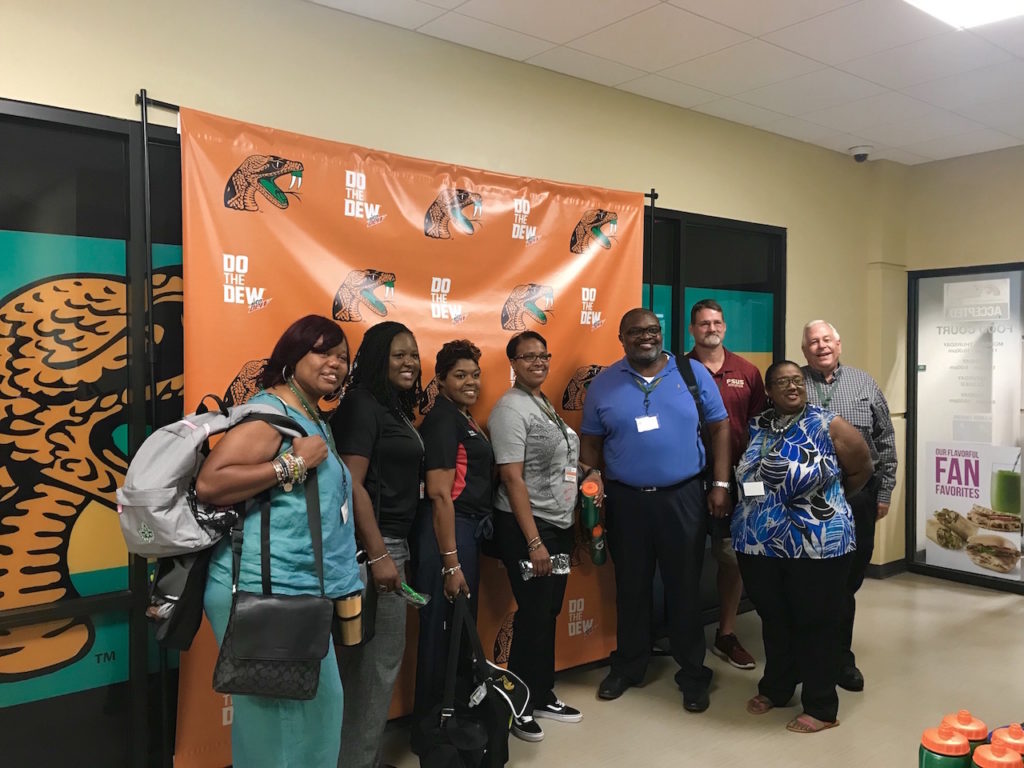 The morning presentation began with a message from President Larry Robinson, Ph.D., who acknowledged the importance of high school guidance counselors and community college academic advisers in helping students decide where to attend university.
"You touch students on a daily basis and we want them to attend FAMU," Robinson told the gathering. "Of course, we want your best and brightest. They help drive positive data for us. And we're doing better at attracting high performing students."
The caliber of students is reflected in the 3.67 average GPA of those new students enrolled for Fall 2019, Robinson said. That is compared to a 3.15 average GPA for students admitted in Spring 2019.
"You can see we are attracting and enrolling great students and our expectations for their success is high," he added.
Following speeches from representatives of FAMU's colleges and schools, workshop attendees were given tours of the Nursing Simulation Center, The Villages dormitories, University Dining, and the Hansel Tookes Recreation Center. Attendees later toured the FAMU/FSU College of Engineering, where they visited the engineering and robotics lab. There was also a roundtable and breakout sessions for freshman and transfer admissions.
Tashia Youmans, a guidance counselor from Oak Ridge High School in Orlando, was glad she returned to her alma mater.
"As a FAMU grad and a high school counselor I feel that this workshop reignited my excitement about encouraging and recommending FAMU to my students," Youmans said. "After seeing and hearing more of what FAMU has to offer and the changes that have occurred over the years, I am extremely excited to see what I can do to encourage them to complete the applications thoroughly and test often to get the required scores for acceptance."
At the end of the day's events, Genyne H. Boston, Ph.D., associate provost for faculty affairs and academic initiatives, expressed appreciation for the role advisers and counselors perform.
"They are the boots on the ground that make it happen for many high school students who may not know what FAMU does," Boston said. "We appreciate them coming. Hopefully, they got a better sense of the FAMU experience."