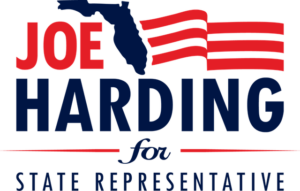 Robinson says Harding's integrity, work ethic, and conservative
convictions make him the right choice for District 22 in the Florida House
The Joe Harding Campaign today announced the endorsement of Jerry Robinson, Mayor of Williston. Harding, a conservative Republican and seventh generation Floridian who was born and raised in Williston, announced his candidacy for the District 22 seat in the Florida House of Representatives in February. The seat is currently held by Representative Charlie Stone, who will not be seeking reelection in 2020 due to term limits.
"Joe Harding is one of the finest people I know," said Mayor Robinson. "His commitment to his family and our community are unrivaled, and I'm confident he is the right leader to represent us in Tallahassee. Not only does he have the right values, his perspective as a small business owner gives him the ability to promote policies that will be effective in growing our economy and creating more jobs and opportunity. I'm proud to endorse him, and I look forward to working with him."
Robinson was elected Mayor of Williston last year. He has had a long career in the insurance industry, and he currently works at Tower Hill Insurance Company as a Liability Claims Adjuster.
"I'm honored to have Mayor Robinson on our team," said Harding. "He is doing a great job for my hometown of Williston, and I look forward to the opportunity to partner with him to serve our fellow citizens."
About Joe Harding for State Representative
Joe Harding, a conservative Republican and seventh generation Floridian, is a small businessman who was born and raised in Williston. Harding's priorities are ending illegal immigration, outlawing sanctuary cities, and supporting agriculture. Also topping his agenda are defending Second Amendment rights, protecting all human life, and addressing skyrocketing health insurance and prescription drug costs. Harding learned the value of hard work and good stewardship of resources in his large family of eleven children, raised by his pastor father and homeschooling mother. While studying construction management at Florida International University, he worked multiple jobs to support himself, eventually working his way up into demanding project management roles. Currently, he owns and operates a lawn maintenance company and a horse boarding and training facility. Harding and his wife, Amanda, have three children. District 22 includes Levy County and part of Marion County.
ON THE WEB: www.JoeHarding.net
Paid by Joe Harding, Republican, for State Representative