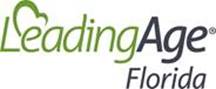 LeadingAge Florida recognized outstanding senior living communities, employees, and residents during its 56th Annual Convention and Exposition today, held at the Hilton Orlando Bonnet Creek, July 22 – 24, 2019.
"The LeadingAge Florida Awards showcase the best in the aging services field and recognizes outstanding members who have gone above and beyond to serve their communities, employees, and residents," said LeadingAge Florida President & CEO Steve Bahmer. "The passion, dedication and commitment of our award winners are second to none, and they are an affirmation of the values of LeadingAge Florida member communities. We are honored to recognize each of them."
The Lifetime Achievement Award, one of LeadingAge Florida's most prestigious awards, was presented to Rogers Stevens, Chief Executive Officer of Westminster Communities of Florida and Immediate Past Chair of the LeadingAge Florida Board of Trustees.  Mr. Stevens was recognized for delivering transformational leadership that has helped advance the aging services field.
LeadingAge Florida also recognized:
Advocate of the Year – Joel Anderson, Chief Executive Officer of Village On The Isle, for his outstanding advocacy efforts with local, state and national policy makers about public policy issues that affect the field of aging services.
Caregiver/Employee of the Year – Errol Webley, Dietary Supervisor at Menorah Manor, for his extraordinary dedication and commitment to enhancing the quality of life for residents within his community.
Chairman's Award – Josh Ashby, Chief Executive Officer of Fleet Landing, for more than a decade of dedicated service to LeadingAge Florida.
Excellence in Collaboration – Air Force Enlisted Village, for their exceptional response and relief efforts following Hurricane Michael, delivering more than $460,000 in aid.
Executive of the Year – Robert Goldstein, Chief Executive Officer of Menorah Manor, for exceptional leaderships, his commitment to mentoring others, and his contributions to the work of LeadingAge Florida.
Innovation Award – Jo Dutsch, Director of Volunteers at Wesminster Suncoast, for her Daystar initiative recycling program that helps residents provide resources and services for the homeless population in the community.
Resident/Volunteer of the Year – Angela Sullivan, Resident and Volunteer at St. Andrews Estates, for creating a volunteer nursing visiting group called Visiting Angels that ensures the dignity, well-being, and independence of residents in her community.
Service Coordinator of the Year – Marigladys Perez, Service Coordinator at Sweetwater Towers, for her outstanding commitment and concern for each resident's well-being and creative problem solving.
Video presentations featuring our award recipients can be found on the LeadingAge Florida YouTube™ Channel. Additionally, photos can be found on our Instagram™, Twitter™ and Facebook™ pages
Established in 1963 as a Florida not-for-profit corporation, LeadingAge Florida is committed to assisting its members in achieving excellence as providers, businesses and employers. The Association provides up-to-date regulatory information, a wide variety of educational opportunities, representation before the Legislature and government agencies, group purchasing services, and opportunities for networking with peers.