Dr. Wayne Riggs has been named the new Dean of Flagler College Tallahassee, effective Aug. 1. Riggs was Associate Professor of History and Associate Dean of the School of Humanities and Sciences at Flagler College in St. Augustine.
As Dean at Tallahassee, he will be primarily responsible for integrating the two campuses, campus operations, examining and strengthening existing programs and building new ones to satisfy the needs of the community.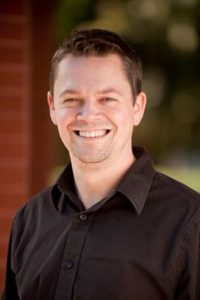 Flagler College President Dr. Joseph G. Joyner emphasized Riggs' stellar example on campus as a teacher-scholar and leader, saying, "We are sorry that he will be leaving the St. Augustine campus, but we believe that he is the right choice to lead Tallahassee and bring the two campuses closer together."
Through a successful partnership with Tallahassee Community College, Flagler College has been providing a high-quality education for area students at an exceptional value for 18 years. Currently, the school offers six degree programs. Over 2,700 alumni have graduated from Flagler College Tallahassee.
"I'm really excited to help serve the needs of the Tallahassee community in my new role there. Not many seem to have heard of our campus in Tallahassee so I'm looking forward to raising the awareness of the great education we offer on Tallahassee's campus," said Riggs.
Riggs holds a Ph.D. and M.A. in Modern European History from Marquette University and a B.A. in history from Grove City College. He specializes in modern Britain, with a focus on British identity and religion during the First World War. Most recently, his research has examined the role of religious organizations in the formation of gender constructs. In addition to his teaching service to the college, he has also served as Coordinator of the Flagler College History Program and Chair of the Humanities Department. Riggs has been at Flagler College for 12 years.
About Flagler College
Flagler College is a small private, independent college located in St. Augustine, Fla. The college offers 34 majors, 41 minors, and a master's degree in Education of the Deaf/Hard of Hearing. Flagler College has an enrollment of about 2,500 students, as well as an offsite campus in Tallahassee, Fla. U.S. News & World Report and The Princeton Review regularly feature Flagler as a college that offers quality education at a relatively low cost. A Flagler education is less than half the cost of similar private colleges, and competitive with many state universities. A relatively young institution (founded in 1968), Flagler College is also noted for its historic beauty. The centerpiece of the campus is the former Hotel Ponce de Leon, a National Historic Landmark opened in 1888 by railroad pioneer and Standard Oil co-founder Henry M. Flagler. For more on Flagler College, visit www.flagler.edu.