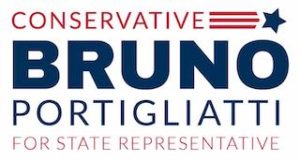 Local Business and Community Leader Seeks Battleground House District 44 Seat
Bruno Portigliatti has announced his candidacy for Florida House District 44. House District 44 is a battleground seat where Republicans have a 2% registration advantage over Democrats and Independent voters make up 32% of the electorate.
"Central Florida is a community of great opportunity and growth that embodies the principles which make our country great," said Portigliatti. "As someone who's always strived to live beyond myself in service to others, I'm running for the Florida House of Representatives because I can't sit idly by while career politicians threaten the conservative values which define our community. I'm ready to fight to keep the American dream alive and make a lasting impact in our community for generations to come. Our work begins today and I'm excited to get our message out to voters."
Bruno has lived in Orlando, particularly in the Dr. Phillips community and surrounding areas since 1999. He attended Southwest Middle School and Dr. Phillips High School. Upon graduating High School, Bruno attended the University of South Florida in Tampa, where he received his bachelor's degree in Political Science and Spanish. He went on to law school at Florida Coastal School of Law in Jacksonville, where he graduated with Pro Bono Honors, and then completed a Master of Business Administration at Florida Christian University in Orlando.
Bruno is a businessman and educator with a strong devotion to his faith. He is currently the President of Florida Christian University, a global-reach institution with over 34 years of existence; Chief Executive Officer of Excellence Senior Living, dedicated to providing luxury senior living facilities in various communities throughout Central Florida. He is also a licensed real estate agent and manages several real estate properties and developments.
Bruno has been civically engaged in his community for many years. He has served on the Board of the Dr. P Phillips YMCA since 2014, on the City of Orlando's Women and Minority Business Enterprise Certification Board, where he served as Chair for almost two years, and has been a member of the Dr. Phillips Rotary Club since 2013. In the educational sector, he is the Vice-President of the Council of Private Colleges of America, a membership organization for private degree granting institutions that provide quality faith-based education, in all 50 states and territories of the USA, and is also a Board Member of FAPSC – Florida Association of Postsecondary Schools and Colleges.
Bruno is fluent in English, Spanish and Portuguese and lives in Orlando with his wife Stephanie.
Paid by Bruno Portigliatti, Republican, for State Representative