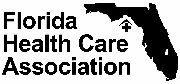 Florida Governor Ron DeSantis will address more than 800 long term care professionals gathered in Orlando for Florida Health Care Association's (FHCA) 2019 Annual Conference & Trade Show. The week-long event at the Hyatt Regency Orlando brings together long term care executives, nursing center and assisted living facility administrators, nurses and others working in the profession for educational sessions, award recognitions and a 290-booth trade show. Governor DeSantis will open the Association's Tuesday Membership Meeting.
"We are honored that Governor DeSantis has agreed to speak to the extraordinary men and women who make quality long term care a reality for Florida's aging population. The long term care sector faces many challenges today, yet our members continue to provide better care than ever despite financial downturns and a tight labor market," said Emmett Reed, FHCA Executive Director. "This conference is an excellent opportunity for them to come together, increase their knowledge base, celebrate their quality achievements, and hear from policymakers whose decisions impact their operations."
Other featured guests include American Health Care Association/National Center for Assisted Living President & CEO Mark Parkinson, a former Kansas governor, who will highlight recent funding and regulatory proposals coming out of Washington, D.C.; and state Agency for Health Care Administration Secretary Mary Mayhew, who will discuss her expectations for how caregivers and regulators will ensure quality care for Florida seniors. Several of FHCA's 2019 Legislative Champions for the Elderly will also be recognized throughout the week, including Sen. Ben Albritton (R-Bartow), Sen. Aaron Bean (R-Jacksonville), Sen. Gayle Harrell (R-Port St. Lucie), and Rep. Margaret Good (D-Sarasota). Centers earning the Governor's Gold Seal for Excellence in Long-Term Care, AHCA/NCAL National Quality Awards will also be honored, and the annual Long Term Care Achievement Awards will be presented to recognize the top administrators, volunteers and resident in the state for their contributions to quality long term care.
FHCA's Annual Conference will run through August 8, and attendees will have the opportunity to earn up to 26 hours of continuing education. A 290-booth trade show takes place Monday and Tuesday, August 5 and 6. Registration is affordable and entrance to the continuing education sessions, exhibit hall, and other networking and social events is included in the full registration package.
For more information about the FHCA 2019 Annual Conference & Trade Show, and how to register, visit the Conference website at fhcaconference.org, or call the FHCA office at (850) 224-3907. For information about obtaining a press pass, contact Kristen Knapp at (850) 510-4389 or [email protected].
ABOUT THE FLORIDA HEALTH CARE ASSOCIATION
The Florida Health Care Association (FHCA) is a federation which serves nearly 1,000 members and represents over 500 long term care facilities that provide skilled nursing, post-acute and sub-acute care, short-term rehab, assisted living and other services to the frail elderly and individuals with disabilities in Florida. The mission of FHCA is to advance the quality of services, image, professional development and financial stability of its members. As Florida's first and largest advocacy organization for long term care providers and the elderly they serve, the Association has worked diligently since 1954 to assist its members with continuously improving quality of care and quality of life for the state's growing elder care population. For more information about the Florida Health Care Association, visit fhca.org.