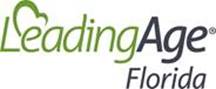 LeadingAge Florida, the state's only association that serves the entire continuum of care for seniors, elected Joel Anderson as its new Board Chair during the association's recent convention in Orlando.
Mr. Anderson is the CEO of Village On The Isle in Venice. He is also the past chair of LeadingAge Florida's continuing care public policy committee, and past chair of the Governor's Continuing Care Advisory Council.
"Joel's passion for serving seniors is simply unmatched," said Steve Bahmer, President and CEO of LeadingAge Florida.  "He is a leader at the local level and at the state level, and our association is fortunate to benefit from his leadership for the next two years."
In addition to Anderson's election, senior living leaders from Central and South Florida were also elected to the LeadingAge Florida Board of Trustees at its convention. The board is responsible for LeadingAge Florida's mission, goals, resources and objectives, and comprises leaders from the state's premier elder care organizations that serve more than 80,000 of Florida's older adults. Newly elected board members include:
Scott Cairns, Executive Director of Indian River Estates in Vero Beach
Aimee Hilton, Administrator of St. Andrews Estates in Boca Raton
Chris Newport, Executive Director of Sinai Residences of Boca Raton
Steve Kramer, President & CEO of The Mayflower Retirement Community in Winter Park
"LeadingAge Florida's position as a highly respected and effective association is in excellent hands due to the hard work and dedication of our board members," Bahmer said. "Our new trustees bring with them years of knowledge, experience and dedication that will prove invaluable as we work to expand the high-quality senior living options in Florida. I also want to thank our outgoing board members for their leadership and commitment to our association."
For a complete list of LeadingAge Florida Board of Trustees members, please visit leadingageflorida.org/page/2019BOT
About LeadingAge Florida
Established in 1963 as a Florida not-for-profit corporation, LeadingAge Florida is committed to assisting its members in achieving excellence as providers, businesses and employers. The Association provides up-to-date regulatory information, a wide variety of educational opportunities, representation before the Legislature and government agencies, group purchasing services, and opportunities for networking with peers.