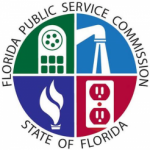 The Florida Public Service Commission (PSC) will conduct a hearing on Monday, August 12 to address Numeric Conservation Goals for electric utilities subject to the Florida Energy Efficiency and Conservation Act (FEECA).
Utilities and interested parties will present testimony and other evidence at the hearing that will be used to set each utility's new conservation goals. Under FEECA, the PSC establishes new conservation goals for each FEECA utility at least every five years.
FEECA was established by the Florida Legislature to reduce peak electric demand and energy consumption through cost-effective energy saving programs. FEECA utilities include Florida Power & Light Company, Duke Energy Florida, Tampa Electric Company, Gulf Power Company, Florida Public Utilities Company, Orlando Utilities Commission, and JEA.
The hearing times and location:
Monday, August 12, 2019
1:30 p.m.
Betty Easley Conference Center
Joseph P. Cresse Hearing Room (Room 148)
4075 Esplanade Way
Tallahassee, Florida
And, if necessary
Tuesday, August 13 – Friday, August 16, 2019
Same location as above
The starting time of the next day's session will be announced at the conclusion of the prior day.
For additional information, visit floridapsc.com.
Follow the PSC on Twitter, @floridapsc.