Tallahassee-based firm's work recognized as best-in-Florida at 2019 event
Earning six major awards including the "Dick Pope All Florida Golden Image Award" for the best single campaign of the year, Sachs Media Group continued its long-term legacy of excellence in the field of public relations and integrated communications campaigns at Tuesday's Florida Public Relations Association (FPRA) Golden Image Awards gala in Tampa. Each year the FPRA competition offers public relations practitioners an opportunity to be recognized and awarded for their dedication to their clients and results-oriented campaigns.
"It's extraordinarily gratifying to know that our work and dedication on behalf of our clients are being recognized and rewarded by our peers," said Michelle Ubben, President and Partner at Sachs Media Group. "We always say the greatest measure of success is our clients' happiness, but it's exciting to know that the high caliber of our work is also acknowledged by those who know our industry the best."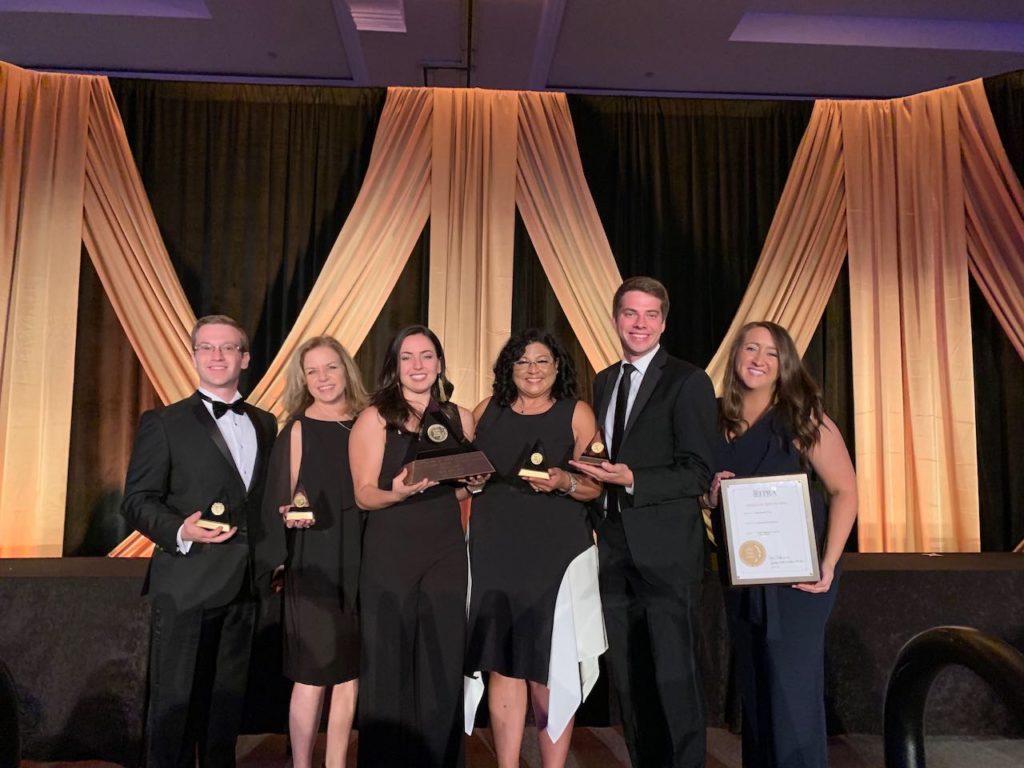 The evening's highest honor, the Dick Pope All Florida Golden Image Award, went to the firm's Rebuild Florida campaign on behalf of the Florida Department of Economic Opportunity (DEO). This campaign also took home a Golden Image Award in the category of Integrated Marketing. The campaign was recognized for excellence for its work after Hurricane Irma to help residents recover from the havoc wreaked by the storm. Sachs Media Group worked with DEO, the U.S. Department of Housing and Urban Development (HUD) and emergency management firm IEM to help clearly communicate available benefits to those residents with the largest unmet needs, as determined by the Federal Emergency Management Agency (FEMA).
Ron Sachs, Founder & CEO of Sachs Media Group, reflected praise on the firm's diverse and talented staff for "always exerting our very best efforts for every client and project."
"We've built our business around generating excellent results and outcomes for every challenge that our clients entrust to us," said Sachs. "As we approach our 25th year, we remain dedicated to our clients' success every day."
Sachs Media Group has offices in Tallahassee, Orlando, Fort Lauderdale, and Washington, D.C. The firm's other awards at the FPRA conference include:
GOLDEN IMAGE AWARD in the Public Affairs category for the Stop Sea Piracy campaign
To shed light on the predatory nature of the maritime salvage and towing industry, Sachs Media Group developed the Stop Sea Piracy campaign. This statewide effort generated dozens of media stories, reached more than 1 million people, prompted nearly 200 emails to lawmakers, and helped advance meaningful price transparency reforms.
GOLDEN IMAGE AWARD in the Public Service category for the Water Quality & Health Council's Healthy Pools campaign
Sachs Media Group worked with the Water Quality & Health Council to educate millions of public pool users across the country about swimmer hygiene, empowering them to take more active roles in protecting themselves from waterborne illnesses. Exceptional outcomes included more than 100 media outlets covering the campaign and 15,200 people requesting pool test kits.
AWARD OF DISTINCTION in the Public Service category for The Florida Bar's Protect Florida Democracy: Our Constitution. Our Rights. Our Courts campaign
When Florida convened its Constitution Revision Commission, which happens every 20 years, this mostly appointed body had the unique authority to place proposed amendments directly on the ballot. These recommendations had the potential to disrupt the independence of the judicial branch, especially with low citizen awareness and interest. The Protect Florida Democracy campaign helped significantly increase awareness and educate voters about this important constitution revision process.
JUDGES AWARD in the Video – Internal category for Tyndall Federal Credit Union's Tyndall Forward Together video
Based in Bay County, Tyndall Federal Credit Union has a mission to make a meaningful difference in the lives of its members. After Hurricane Michael devastated the region served by Tyndall, Sachs Media Group sprang into action to help it execute a "Forward Together" campaign. The initiative included organizing community service efforts, providing direct support to members, and developing an engaging video to offer hope to affected members.
In previous years, Sachs Media Group earned the top FPRA Dick Pope All Florida Golden Image Award for its work on the "Yes on 4" amendment campaign for water and land conservation (2009) and for its "Honoring Those Who Served U.S." campaign with the Florida Department of Veteran's Affairs (2013).
About Sachs Media Group
Sachs Media Group is the go-to strategic communications partner for mid- to large-sized corporate, nonprofit, and government organizations with high-stakes challenges. Based in Florida with national reach, we've perfected the art and science of promoting issues, brands, and services. We believe in insight-informed strategy — doing the right things to reach the right audiences and achieve the right outcomes, measuring success the way our clients do. With headquarters in Tallahassee and offices in Orlando, Fort Lauderdale, and Washington, D.C., our award-winning team has the experience, specialized skills, and bandwidth to treat each client's high-stakes issue as a top priority. www.sachsmedia.com