Buoyed by an 84 percent increase in alumni donations, Florida A&M University (FAMU) reached the $11.6 million fundraising goal set by the FAMU Board of Trustees.
Responding to this year's aggressive fundraising approach, more than 4,700 total donors made a resounding statement of support, representing a more than 13 percent increase in donations.
"We are excited to see this continued increase in giving," said Shawnta Friday-Stroud, Ph.D., vice president of University Advancement. "The legacy of FAMU continues to thrive because of the astounding generosity of our donors. Having the support of such a strong donor base is encouraging and assures our students that the pursuit of their dreams is shouldered by a community that truly cares."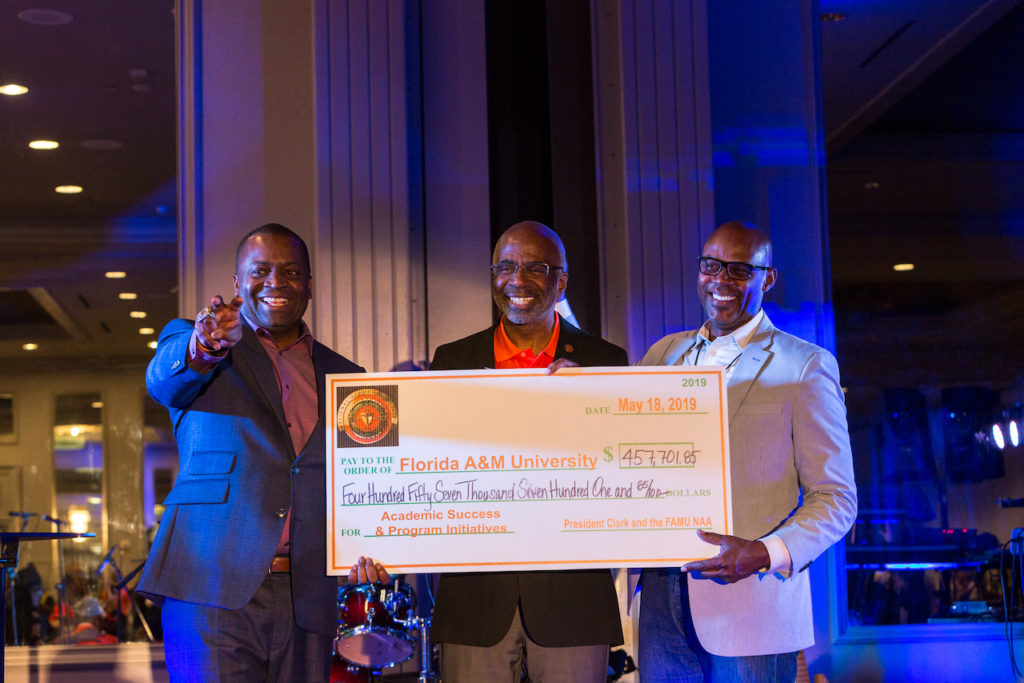 FAMU NAA President Col. Gregory Clark (left) FAMU President Larry Robinson, Ph.D.,
(center) and Jemal O. Gibson, of the FAMU Foundation Board of Directors, celebrate
alumni giving at the FAMU NAA Annual Convention in Birmingham, Ala., in April.
The most notable of this year's fundraising campaigns was FAMU Rising, an annual giving campaign designed to garner support for student scholarships, student success initiatives, FAMU Athletics, history, and the arts. Other fundraising efforts included the resurgence of the FAMU Industry Cluster as well as an increased focus on major, affinity, and charitable planned giving.
While the total number of alumni donors increased by over 21 percent, the amount of their donations rose by $1.3 million or 84 percent over the previous year. Those donations bear witness to the fact that FAMU alumni are ramping up their support.
"One of the most encouraging highlights we've seen has been the major increase in dollars from alumni," added Friday-Stroud. "Alumni support is vital to the success of any university, directly affecting national rankings. Seeing how much our alumni have stepped up, reassures us that we are headed in the right direction."
Plans to build on this momentum are already underway. Later this month, the University will kick off a 17-city FAMU Rising Fundraising Tour. This tour aims to identify and engage major donor prospects to garner support for the University's highest priority initiatives.
"We are extremely grateful for every donor in the Rattler community that helped us reach our goal," said Friday-Stroud. "There is still so much work to be done. As we make plans to create more opportunities for our students, we know that our success will largely depend on continuing this upward giving trend. It's only together that we rise."