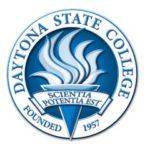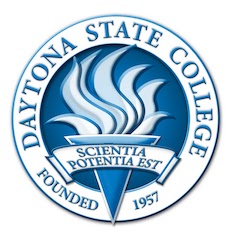 The Daytona State College District Board of Trustees had a full agenda when they met Thursday, August 15, 2019, at the New Smyrna Beach/Edgewater Campus. One item of business brought before the board was the formal partnership between the College and the new Southeast Volusia School of Science & Technology (SEV Sci-Tech).
The new middle and high charter school will focus on higher education and careers in science, technology and mathematics, preparing students for a variety of careers and advanced higher education. Representatives from SEV Sci-Tech attended the meeting to show their support for the plan which involves a 51-year land lease from DSC on the New Smyrna Beach/Edgewater Campus.
The charter school is beginning the permitting and surveying process with a goal to open as early as fall 2020. Based on the presentation, positive feedback from the community and stakeholders, and the tremendous impact this holds for the campus and region for future generations, the DSC trustees approved the land-lease agreement unanimously.
"We're very excited for this opportunity, and bringing future Daytona State students here with high-tech dual enrollment opportunities I think will be a win-win," said Dr. Tom LoBasso, DSC President. Everyone agreed that this shared vision will help students expand their educational opportunities while exploring various STEM-related career pathways. "Today's vote to move forward represents the unlimited potential for students in this community as well as those businesses and industries who look to Daytona State College as the leader in high-tech, high-skilled education."
About Daytona State College
Offering more than 100 certificate, associate and bachelor's degree programs, Daytona State College has responded to the education and workforce training needs of Volusia and Flagler counties and beyond for more than 60 years. The college enrolls nearly 28,000 students a year at its seven instructional sites, with graduates serving in critical fields including health care, emergency services, business, education, hospitality, engineering, technology and more.
Daytona State has been recognized as a leader in higher education numerous times, consistently by U.S. News & World Report, which ranks the college among the Top Tier Best Online Bachelor's Programs seven years running. The U.S. Department of Education's College Affordability and Transparency Center has ranked DSC among the top 50 most affordable public four-year institutions in the country, with less than half the tuition of the national average.Community College Week, a leading publication in higher education, annually continues to feature the college in its list of Top 100 Associate Degree Producers. And for three years in a row, U.S. News & World Report has ranked DSC among its Top Online Bachelor's Programs for Veterans.
For enrollment information, visit Admissions' Frequently Asked Questions page.