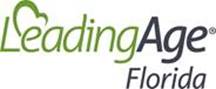 LeadingAge Florida, Florida's only association representing the entire continuum of care for older adults, announced today that Tyler Sununu has been hired as the association's Director of Nursing Home Public Policy.
Mr. Sununu joins LeadingAge Florida from Westminster Oaks, a senior living community in Tallahassee, where he served as Health Services Administrator. In his new role, he will be responsible for the development and execution of all nursing home related public policy, and for supporting members with nursing home operations, regulatory issues, quality improvement, and best practices.
"Tyler is a tremendous addition to our advocacy team," said Steve Bahmer, President and CEO of LeadingAge Florida. "He brings a wealth of nursing home leadership experience and relationships that will make him an excellent resource for our members. I'm thrilled to have him join our team."
"Tyler's background and experience will enhance our public policy agenda, and I look forward to working closely with him to further strengthen our advocacy efforts on behalf of our members," said Susan Langston, Vice President of Advocacy.
Mr. Sununu has served as Administrator and Executive Director for a variety of skilled nursing providers and consulting groups, including Gulf Coast Health Care and Summit Care Inc. In his most recent position, Mr. Sununu oversaw health services at Westminster Oaks, which included management of the highest rated nursing home in the area.
Mr. Sununu earned his Bachelors of Science in Health Services Administration from the University of Central Florida and his Masters of Public Health from Florida State University. He currently lives in Tallahassee with his wife Bethany and their 5-month-old daughter Hannah.
Established in 1963 as a Florida not-for-profit corporation, LeadingAge Florida is committed to assisting its members in achieving excellence as providers, businesses and employers. The Association provides up-to-date regulatory information, a wide variety of educational opportunities, representation before the Legislature and government agencies, group purchasing services, and opportunities for networking with peers.