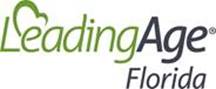 LeadingAge Florida, Florida's only association representing the entire continuum of care for older adults, announced today that Susan Anderson, Esq. has been hired as the association's Director of Assisted Living Public Policy.
Ms. Anderson joins LeadingAge Florida from the Florida Senior Living Association where she served as Vice President of Public Policy and Legal Affairs. In her new role she is responsible for the development and execution of all assisted living related public policy, and for supporting members with assisted living operations, regulatory issues, and best practices.
"Susan brings extensive public policy experience to our advocacy team that will be invaluable for our assisted living members," said Steve Bahmer, President and CEO of LeadingAge Florida. "She is an excellent addition to our team, and we are proud to welcome her to LeadingAge Florida."
"The addition of Susan to our team further strengthens our position as the leading advocate for the full continuum of aging services in Florida," said Susan Langston, Vice President of Advocacy. "We are excited about the experience and vision she brings to the position."
Ms. Anderson has a vast background in Florida legislative and regulatory matters. She is a Florida State University law school graduate who, after several years in private practice, worked on assisted living issues as assistant general counsel and deputy state ombudsman for the Department of Elder Affairs. For the last four years, she has focused on assisted living policy and regulatory issues as Vice President of Public Policy and Legal Affairs for the Florida Senior Living Association.
Established in 1963 as a Florida not-for-profit corporation, LeadingAge Florida is committed to assisting its members in achieving excellence as providers, businesses and employers. The Association provides up-to-date regulatory information, a wide variety of educational opportunities, representation before the Legislature and government agencies, group purchasing services, and opportunities for networking with peers.