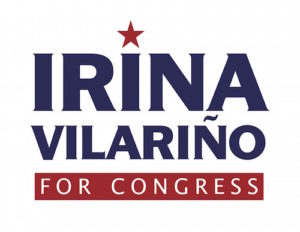 Diaz says Irina Vilariño's commitment to lower taxes and reducing red tape for
entrepreneurs will provide the kind of leadership needed in Congress to
preserve the American Dream for future generations.
The Irina Vilariño for Congress Campaign today announced the endorsement of State Senator Manny Diaz. Vilariño, a successful business owner, is challenging Debbie Mucarsel-Powell for the U.S. House of Representatives in Florida's 26th District. Diaz was elected last year to represent District 36 in the Florida Senate after serving three terms in the Florida House of Representatives. His support comes on the heels of Vilariño making the National Republican Congressional Committee's "On the Radar" list of candidates last month.
"Irina Vilariño will deliver the effective representation South Florida needs and deserves in Congress," said Diaz. "Her family's American success story following their escape from Cuba resonates in our community and gives her the real-world understanding of the vast difference between oppression and freedom Washington desperately needs. We can count on Irina to promote federal policies that promote free enterprise and economic growth, and I'm proud to support her."
Diaz, a longtime leader in education reform, chairs the Florida Senate Education Committee. He also serves as Vice Chair of the Appropriations Subcommittee on Education and on the Appropriations Subcommittee on Health and Human Services as well as the Committees on Ethics and Elections and Health Policy.
"What an honor to have Chairman Diaz on our team," said Vilariño. "His leadership is making a real difference in our schools, and students across the state are benefiting from his commitment to ensuring excellence in our education system. I have so much respect for him and the hard work he is investing in our community, and I look forward to working with him."Vilariño arrived in Florida from Cuba with her family as part of the Mariel boat lift in 1980 when she was a small child. An early and staunch supporter of conservative ideals, she is running on a platform that includes pro-growth policies that help working families, lower taxes and fewer regulations, a strong national defense, and the protection of our quality of life. Of particular concern to her is the extreme leftward push of Democrats like Mucarsel-Powell and Nancy Pelosi.
To learn more please visit irinavilarino.com.
PAID FOR BY IRINA VILARIÑO FOR CONGRESS