The Florida A&M University (FAMU) School of Journalism & Graphic Communication (SJGC) recognized ESPN announcer Tiffany Greene as its 2019 Thelma Thurston Gorham Distinguished Alumnus Award winner.
A 2003 graduate, Greene was honored for her exemplary work in the field of broadcast journalism. Greene is a trailblazer, notably known as the first-ever African-American female college football play-by-play announcer at a major network. Greene continues her legacy this fall on ESPN covering a variety of college sports, including football.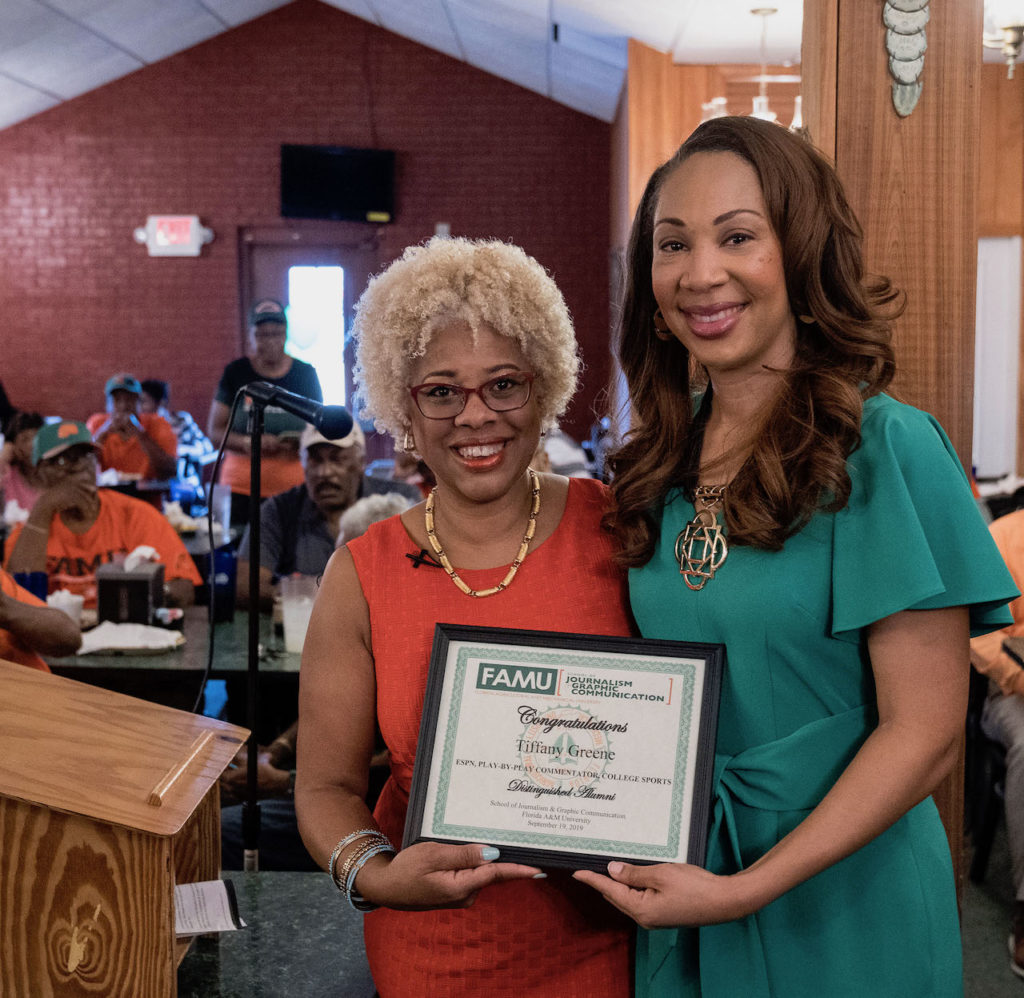 Dr. Michelle Ferrier (left) presents the 2019 Thelma Thurston Gorham
Distinguished Alumnus Award to ESPN announcer Tiffany Greene (right).
Greene received the award Wednesday, Sept. 18, 2019, during the weekly 220 Quarterback Club luncheon at which she was the guest speaker.
SJGC Dean Michelle Ferrier, Ph.D., said Greene is "instrumental in opening doors for not only people of color in journalism but also for our SJGC students in the field of journalism."
The award is named in honor of the late Thelma Thurston Gorham (1913-1991), who was the first journalism instructor at FAMU. She was one of few African-American women to work in newspaper journalism at a time when newsrooms were largely closed to women. The Distinguished Alumnus Award honors successful alumni who have made significant contributions in journalism.
Other notable Thelma Thurston Gorham Award winners include Atlanta Mayor Keisha Lance Bottoms, Kim Godwin, executive vice president at CBS News, and Denise Hendricks, a senior television producer at HLN.
"I am honored and humbled to be among such great company of School of Journalism & Graphic Communication distinguished alumni," Greene said. "What a dream come true. I had to hold back tears and pinch myself after receiving this award."
Prior to starting at ESPN in 2012, Greene served as a play-by-play announcer and sports reporter at Bright House Sports Network in the Orlando and Tampa Bay markets. She serves on the FAMU SJGC Board of Visitors and is a frequent contributor to the annual Grads Are Back program during Homecoming.