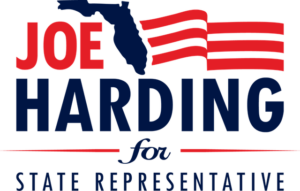 The District 23 State Representative says Harding will
provide effective leadership for neighboring District 22.
The Joe Harding Campaign today announced the endorsement of State Representative Stan McClain, who has represented District 23 in the Florida House since 2016. Harding, a conservative Republican and seventh generation Floridian, entered the race for House District 22 in February. The seat is currently held by Representative Charlie Stone, who will not be seeking reelection in 2020 due to term limits.
"I have no doubt in my mind that Joe Harding has what it takes to get things done in Tallahassee," said McClain. "His roots in the district, his business experience, and his strong conservative values all make him perfectly suited to effectively serve the people of District 22. Joe has my full support, and I look forward to working with him on behalf of Marion County and our entire region."
McClain currently serves on the House Leadership Team as Majority Deputy Whip as well as the Vice Chair of the Criminal Justice Subcommittee and the PreK-12 Appropriations Subcommittee. Prior to his election to the Legislature, he served three terms on the Marion County Commission.
"I am truly honored to have Stan McClain's support," said Harding "His character and integrity have made him a very effective and trusted public servant, and I'm proud to add him to our team as we work together to serve this community we both love."
McClain's endorsement comes on the heels of several local officials who have also announced their support for Harding. They include Levy County School Board member Ashley Clemenzi, Levy County Tax Collector Linda Fugate, Levy County Commission Vice Chair Matt Brooks, Williston Mayor Jerry Robinson, and Belleview Mayor Christine Dobkowski.
About Joe Harding for State Representative
Joe Harding, a conservative Republican and seventh generation Floridian, is a small businessman who was born and raised in House District 22. Harding's priorities are ending illegal immigration, outlawing sanctuary cities, and supporting agriculture. Also topping his agenda are defending Second Amendment rights, protecting all human life, and addressing skyrocketing health insurance and prescription drug costs. Harding learned the value of hard work and good stewardship of resources in his large family of eleven children, raised by his pastor father and homeschooling mother. While studying construction management at Florida International University, he worked multiple jobs to support himself, eventually working his way up into demanding project management roles. Currently, he owns and operates a lawn maintenance company and a horse boarding and training facility. Harding and his wife, Amanda, have four children. District 22 includes Levy County and part of Marion County.
ON THE WEB:  www.JoeHarding.net
Paid by Joe Harding, Republican, for State Representative