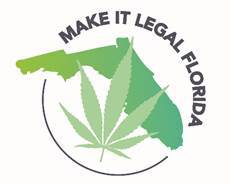 Florida voters around the state are beginning to receive their Make it Legal Florida petitions this week, in an effort to gather signatures supporting regulated adult-use of marijuana.
"The tide is changing on adult-use— Florida voters are more accepting than ever of regulated use of marijuana for adults 21 years and older," said Nick Hansen, Chairman of Make it Legal Florida. "As part of Make it Legal Florida's efforts, we are making it easier than ever for Florida voters to make their voices heard. Each targeted voter will receive a personalized mail piece with their name and address already printed on the form so all they have to do is sign, date and return."
The Make it Legal petitions were sent to prequalified voters around the state in effort to make it easier for Florida voters to have their voices heard. According to polling data, 67 percent of Florida voters support regulated adult-use of marijuana.
The mailed petitions are part of Make it Legal Florida's statewide efforts to gather signatures, which also includes paid petition gatherers around the state to help take the effort directly to Florida voters. Along with the mailers, Florida voters can also visit MakeItLegalFlorida.com to download petitions.
Make it Legal Florida was formed as a committee in 2019 for the purpose of proposing a constitutional amendment in 2020 to legalize the adult-use of cannabis in Florida. Specifically, the amendment would allow adults 21 and older in Florida to purchase cannabis for any reason from a licensed and regulated Medical Marijuana Treatment Centers (MMTCs), as long as it is in childproof packaging and not advertised to anyone younger than 21.