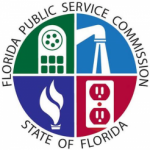 Within almost a shell's throw of beautiful Flagler Beach, the George Wickline Senior Center helps Flagler County seniors stay fit and informed. The Center recently helped the Florida Public Service Commission (PSC) host a PSC National Lifeline Awareness Week event. For the Center's willingness to be an extra pair of hands, the PSC is awarding them this quarter's Helping Hand Award.
Each quarter, the PSC highlights a partner agency or organization whose clients are eligible for the federal Lifeline Assistance telephone/broadband discount program or need help reducing energy and water bills. Through these PSC Helping Hand partnerships, the Commission shares information to help consumers avoid scams and stretch their resources to meet monthly bills.
"We enjoy having guest speakers to encourage our seniors to connect with programs and services that support their needs and abilities, like the PSC," said Winnie Costello, Case Manager, Flagler County Social Services/Senior Services Division. "The PSC's visit during Lifeline Awareness Week provided our clientele with information about the discounted communications program, how to better monitor their utility services, and how to be vigilant about avoiding scams."
The PSC schedules events year round to reach those who can benefit from information on hurricane preparedness, scam protections, and energy and water conservation. Look for this year's PSC Helping Hand outreach partner recognitions on the PSC's homepage, floridapsc.com, under Hot Topics.
About the George Wickline Senior Center
The Center is open to seniors 60+. Activities include guest speakers, exercise, bingo, weekly shopping trips, and musical entertainment. Seniors also have access to a computer lab and lending library. Center hours are 9:30 a.m. to 1:00 p.m., Monday through Friday, with a hot meal served at noon. For more information, please call 386-517-2435.
For additional information, visit www.floridapsc.com.
Follow the PSC on Twitter, @floridapsc.