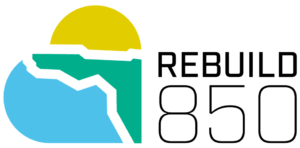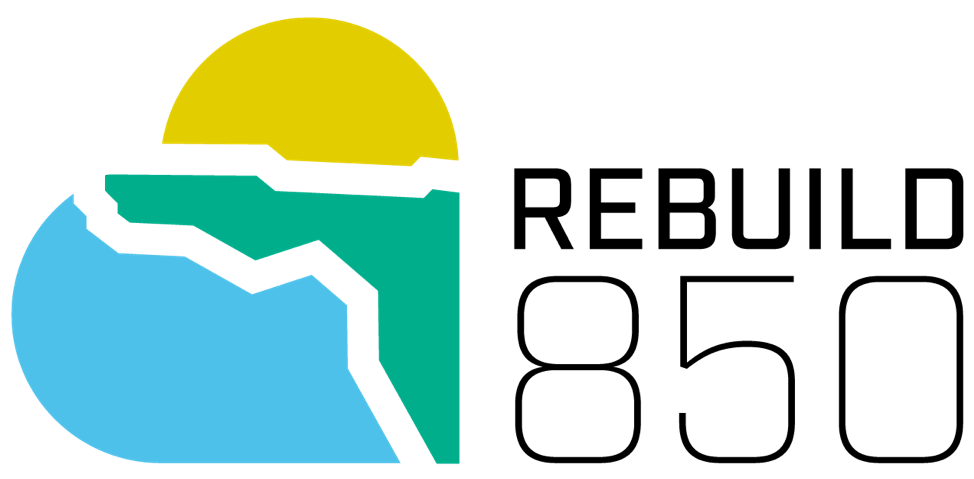 Nearly one year after Category 5 Hurricane Michael cut a swath of destruction across multiple communities in Northwest Florida, diverse leaders gathered in Tallahassee to issue an urgent plea for continued aid to fill critical needs in a regional rebuilding effort that will take years to finish. Hurricane Michael caused the loss of more than 4,000 jobs over the year in the affected counties, reversing a trend of steady growth, according to the most recent data available from the Florida Department of Economic Opportunity. Experts have estimated that about 56 percent of Florida's economic loss from Hurricane Michael will be uninsured, leaving a gap of more than $9 billion in uninsured losses.
"We appreciate everything that Governor DeSantis, the Florida Legislature and our federal partners have done to help, and the leadership they've provided," said former Florida House Speaker Allan Bense, co-chair of REBUILD 850 and a business owner in Bay County. "Despite the help, there's still a staggering gap between the money we need, and the money that is coming our way. Our advocacy work is important and necessary to keep up the focus and attention for the years to come."
Co-Chair Will Weatherford, a former Florida House Speaker, emphasized that the storm's widespread damage will require intense ongoing attention and assistance.
"Hurricane Michael made history as the first Category 5 to hit the U.S. mainland since Hurricane Andrew in 1992, and yet there's a sense that many in Florida have moved on," he said. "We can't let people forget that our fellow neighbors are hurting. We need to keep up with federal and state financial assistance and donations of dollars and volunteer time from our fellow Floridians."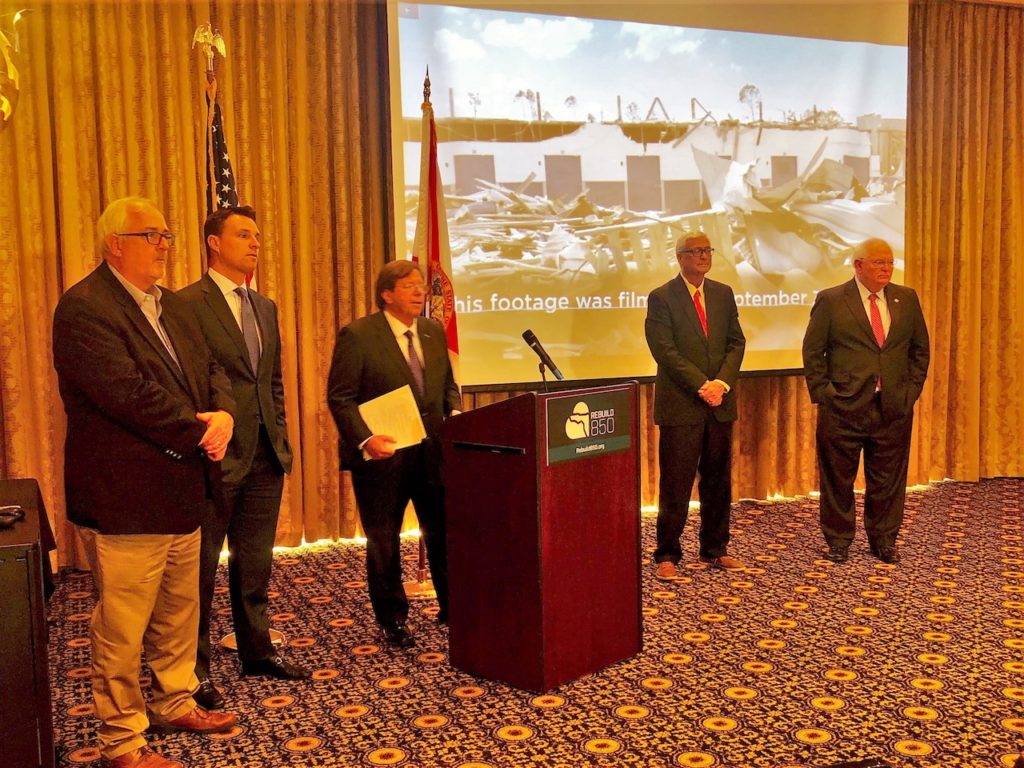 State Sen. Bill Montford, who has championed the need for significant state financial assistance for the region to his legislative colleagues, made it clear that advocates for the damaged communities will not allow Northwest Florida to be forgotten.
"We can't forget that there are hard-working Floridians who are still hurting in the Panhandle, and they're going to be rebuilding their communities for many years to come," said Montford, (D-Tallahassee). "Most of their financial resources are exhausted. People are counting on the philanthropic community, the state of Florida, and federal agencies to get the money to them quickly and efficiently — and we want to do all we can to expedite that process."
Michael made landfall on October 10, 2018, at Mexico Beach with winds of 160 mph and more than 15 feet of storm surge, and then tore inland through the Florida Panhandle and into Georgia with tornado-force winds that wrecked thousands of homes and businesses, and destroyed millions of acres of trees and crops. In Florida alone, Hurricane Michael left more than 190,000 structures damaged, and resulted in an economic loss of about $16.5 billion, according to a March 2019 report by Aon plc, a global insurance services company. The insured loss was about $7.25 billion, leaving about $9.25 billion in uninsured losses, according to the report. About 12 percent of the insurance claims filed after Hurricane Michael are still open, according to the Florida Office of Insurance Regulation. More than 14,000 people filed Disaster Unemployment Assistance Claims related to Hurricane Michael, according to the Florida Department of Economic Opportunity.
Small businesses in the region continue to struggle. About 40 to 60 percent of small businesses typically do not reopen following a disaster, according to FEMA estimates. More than 68,000 businesses were impacted by Hurricane Michael, with many still closed nearly one year later. Tyndall Air Force Base, a major economic driver that accounts for more than 10 percent of Bay County's population and an economic impact of more than $600 million, suffered catastrophic damage with rebuilding costs estimated to be at least $4.7 billion. The Florida SBDC Network assisted and closed nearly 600 emergency bridge loans following Hurricane Michael, providing $34 million in immediate, short-term capital, and worked with the federal Small Business Administration to help small businesses secure 1,228 SBA Physical and Economic Injury Disaster Loans for more than $119.6 million.
"The people here are self-reliant, and they don't like to ask for help," said Kristy Terry, executive director of the North Florida Inland Long Term Recovery Group and director of the Calhoun County Chamber of Commerce. "Today I'm here to say, we need help. We appreciate everything the state and federal governments, and private donors, have provided for us. As of today, we are looking at a recovery that we can't see the end of."
Donna Pilson, executive director of Rebuild Bay County Inc., the long-term disaster recovery organization, said the organization is in the midst of a multi-year effort to add additional funding, materials, volunteers, and services to assist thousands of residents still in need.
"Bay County is still in active recovery, and housing is a major issue" Pilson said. "The recovery will potentially extend several more years, and we are working with many faith-based and other non-profit organizations to address critical needs in home rebuilding and repairs, mental health, legal aid, and medical care."
Volunteer Florida CEO Clay Ingram said that individuals and charity groups from within the region and outside are continuing to help. He encouraged both volunteers and those seeking help to connect online at VolunteerFlorida.org. It's the reliable, proven place for Floridians to pledge financial help through the disaster recovery fund and also to find the best channel for their volunteer efforts.
FEMA has so far provided about $1.7 billion for Hurricane Michael recovery, provided through individual assistance to more than 42,000 homeowners and renters in 12 counties, payment on flood insurance claims, Small Business Administration disaster loans, and other grants. Grants to local governments have helped cover infrastructure repairs and debris removal, both areas of continuing need. Work crews have already removed 31 million cubic yards of debris left by Michael, according to Bay County officials, with millions more cubic yards still remaining to be removed. Nearly 2 million cubic yards of debris has been removed in Calhoun County, and more than 7 million cubic yards of debris has been removed in Jackson County.
Craig Fugate, former administrator of FEMA and former director of the Florida Division of Emergency Management, said that day-to-day coordination of recovery resources is a perpetual challenge in the aftermath of catastrophic disasters like Hurricane Michael, particularly in sparsely populated areas like the Panhandle's inland communities.
"Most rural communities don't have the money or the staffing to manage the daily challenges of the recovery process," said Fugate. "It's important to go into those communities and collaborate with the local governments and nonprofits working on the ground, and provide them with the tools and resources they need to implement recovery strategies and projects."
A lack of housing in the region is a significant and ongoing challenge. In Bay County, about 22,000 residents were displaced by the storm, with 5,000 still considered homeless, according to a September report by the Bay County Long-term Recovery Task Force. In the hardest hit areas of Calhoun and Jackson Counties, more than 60 percent of the housing stock was damaged or destroyed. Average rental rates in Panama City Beach jumped from $1,500 to $2,500 and in Panama City they have gone up from an average of $1,200 to just over $1,700, the report said.
Floridians outside of the Panhandle remain largely unaware of these hardships — a recent survey by the National Hurricane Survival Initiative found that most Floridians are unaware that extensive damage remains in areas hardest hit by Hurricane Michael. Even more concerning is that the further a Florida resident is from Michael's destruction, the less likely they are to recall that Hurricane Michael even hit the state in 2018.
Statements From REBUILD 850 Partners:
FAIR Foundation
"As a long time sponsor of the statewide Get Ready Florida! hurricane preparedness initiative, the FAIR Foundation is proud to continue its partnership in the Rebuild 850 initiative. Much has been accomplished but much work remains to fully restore and rebuild the Florida communities devastated by Hurricane Michael just a year ago. While we continue to focus our energy on the rebuilding effort, our Foundation works to protect all Floridians by educating homeowners on potential risks, mitigating properties against wind and water damage, and reducing the number of uninsured properties across our state. The lessons learned from the losses attributed to Hurricane Michael inspire our work going forward."
— Jay Neal, President and CEO, FAIR Foundation
Florida Association of Counties
"The Florida counties in Hurricane Michael's declared disaster area are committed to rebuilding their communities and infrastructure to be stronger and more resilient than before. Northwest Florida is now only one year into a multi-year rebuilding effort, and we appreciate the work of REBUILD 850 to keep the focus on providing local governments with the resources they need over the long term."
— Virginia "Ginger" Delegal, Executive Director, Florida Association of Counties
Florida Chamber of Commerce
"Florida's business community stands with our neighbors in the 850, and we're committed to the long-term economic growth of this important region. We've united Florida's business community, providing some of Florida's top business leaders with site visits to the impacted areas to help spark investment and economic diversification opportunities to help rebuild the Panhandle even stronger. The Florida Chamber will continue raising awareness about the unmet needs in Northwest Florida."
— Mark Wilson, President and CEO, Florida Chamber of Commerce
Florida League of Cities
"Hurricane Michael affected more than 50 cities and towns across Northwest Florida, many of them small municipalities with few resources to handle a disaster of such massive scope. After one year of rebuilding there has been progress, but there is still much work to be done. REBUILD 850 is calling attention to the need for continuing state, federal, and philanthropic support for many years to come."
— Mike Sittig, Executive Director, Florida League of Cities
Florida School Boards Association
"Hurricane Michael's devastating blow a year ago continues to be felt every day by the citizens of the ravished area. It will take years for full recovery to take place and as fellow Floridians, it is our obligation to make sure that sustained attention and effort is given to the needs of those affected. Our public schools, the bedrock of the community, continue to feel the crunch of housing shortages and limited wraparound services for our most vulnerable residents, our children. Rebuild 850 exists to ensure that diligent care and steadfast energy is focused where we need it, to restore Florida's Panhandle."
— Andrea Messina, Executive Director, Florida School Boards Association
Greater Tallahassee Chamber of Commerce
"Tallahassee's business community is committed to supporting the long-term recovery of our hard-hit neighbors in the Panhandle. REBUILD 850 is an important effort to keep the focus on investing and rebuilding in Northwest Florida with confidence that our shared regional economy will come back stronger than ever."
— Sue Dick, President and CEO, Greater Tallahassee Chamber of Commerce
IEM
"As we approach the one year anniversary of Hurricane Michael, we must remained focused on rebuilding our communities. Communities recognize that recovery is a slow, at times arduous, process. As fellow Floridians, we too know the devastation that hurricanes and other disasters can have on our lives and livelihoods.
"As Northwest Florida struggles to rebuild, we must continue to support this area in every way possible. That supports come in many ways: by donating your time or money to the impacted areas; by visiting our beautiful towns, attractions, and beaches; or by investing in the businesses who will serve as the core of the recovery effort. Each gesture of support – no matter how small – has a positive impact on those working every day to rebuild their lives and communities.
"I also encourage residents and businesses to engage with their elected government officials on rebuilding stronger and more resilient than before Michael struck our shores. Share your ideas about how to mitigate the impact of future storms and stress the need to take advantage of the current opportunity to build back better – hardening our infrastructure and the community lifelines on which we all depend. Get involved in Rebuild 850 and other Long-Term Recovery groups that are shaping the projects and policies in development now to ensure they meet the local needs and desires. Enable North Florida to be a national model for how communities impacted by catastrophic storms can recover resiliently, becoming better and stronger."
— Bryan Koon, Vice President of Homeland Security and Emergency Management, IEM, Director of Florida's Division of Emergency Management from February 2011 until October 2017
Rep. Jason Shoaf
"I watched as Hurricane Michael destroyed much of our community yet we began rebuilding our hometowns and businesses immediately. We cannot do this alone and we need the support of our fellow Americans. Today we remind everyone of the devastation and destruction that Hurricane Michael brought on our region, our families and our businesses that are still struggling nearly one year later. Our hearts go out to the Bahamas because we know their struggle. Please don't forget that here in our county we still have those that are homeless because of this storm."
— Florida House Representative Jason Shoaf (R-Port St. Joe)
Rep. Loranne Ausley
"With the one year anniversary of Hurricane Micheal upon us, it is critical that we acknowledge that there is much work left to be done. The people of the Panhandle are strong and resilient as they have proven time and again this past year. The recovery continues and we must see it through."
— Florida House Representative Loranne Ausley (D-Tallahassee)
1000 Friends of Florida
"Founded in 1986 to promote effective planning to save special places and build better communities in one of the fastest growing states in the nation, 1000 Friends of Florida supports the efforts of REBUILD 850 and others to help Northwest Florida recover after the devastating impacts of the Category 5 Hurricane Michael. It is our hope that out of this tragedy can emerge visionary planning that serves to rebuild sustainable and resilient communities in appropriate locations, while protecting the unique environmental resources and agricultural traditions of the region. If done appropriately, rebuilding efforts here can serve as a model for the rest of the state and, indeed, nation."
— Paul Owens, President, 1000 Friends of Florida
About REBUILD 850
The REBUILD 850 initiative launched in November 2018 to keep the continuing needs of the Florida Panhandle top-of- mind as the hard-hit communities work to recover and rebuild from the devastation of Hurricane Michael. REBUILD 850 benefits from the help of a diverse group of dedicated partner organizations from across the state. The initiative encourages people to Donate, Volunteer, Visit, and Invest to support the region's long-term recovery efforts. For more information, visit rebuild850.org.