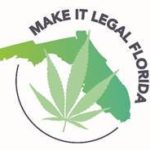 Preliminary counts of ballot signatures show that in just the first 20 days of their efforts, Make it Legal Florida has gathered over 100,000 petition signatures from Florida voters who support regulated adult use marijuana.
"We are blown away by the support of Florida voters, but our efforts are just getting started," said Nick Hansen, Chairman of Make it Legal Florida. "Make it Legal Florida will continue the fight for what Florida voters clearly want— regulated adult use marijuana for those 21 and up. We'll continue to remain focused on our efforts and feel confident that we will meet the goals and deadlines required by the state of Florida."
The Make it Legal Florida petitions were sent to prequalified voters in an effort to make it easier for Florida voters to have their voices heard, as part of a multi-tiered, statewide effort to gather signatures. Make it Legal Florida will submit signatures to county supervisors of elections, where it will take approximately 30 days for them to be verified and transmitted to the Division of Elections. Make it Legal Florida must submit 76,632 verified signatures for judicial review, and 766,200 total in order to make a ballot position.
Make it Legal Florida was formed as a committee in 2019 for the purpose of proposing a constitutional amendment in 2020 to legalize the adult-use of cannabis in Florida. Specifically, the amendment would allow adults 21 and older in Florida to purchase cannabis for any reason from current and future licensed and regulated Medical Marijuana Treatment Centers (MMTCs), as long as it is in childproof packaging and not advertised to anyone younger than 21. Learn more at MakeItLegalFlorida.com.