The Florida A&M University (FAMU) Department of Athletics issued an advisory on Friday morning regarding anticipated high temperatures during Saturday's Mid-Eastern Athletic Conference (MEAC) game against North Carolina Central at Bragg Memorial Stadium.
Like much of the country, Tallahassee, Fla., is experiencing above-average temperatures with highs on Saturday expected in the mid-to-high '90s.
As a precaution, FAMU Athletics and Athletic Training departments would like to encourage the following for fans attending the game:
Stay Cool

Wear light/loose clothing and a hat.
Shade tents will be set up inside the stadium for fans to cool off.

Stay Hydrated

Bottles of water are available for purchase at the concessions stand.
Avoid excessive alcohol consumption, stay hydrated, head to shaded areas around the concourse from time to time, and if you begin to feel signs of heat exhaustion or heat streak, seek medical attention immediately.

Stay Alert

Monitor susceptible fans (young, elderly or sick)
If you or a loved one begins experiencing symptoms of heat exhaustion, contact the nearest campus safety officer, usher or EMS personnel.
An EMS tent will also be set up near the concessions stand to treat symptoms if needed.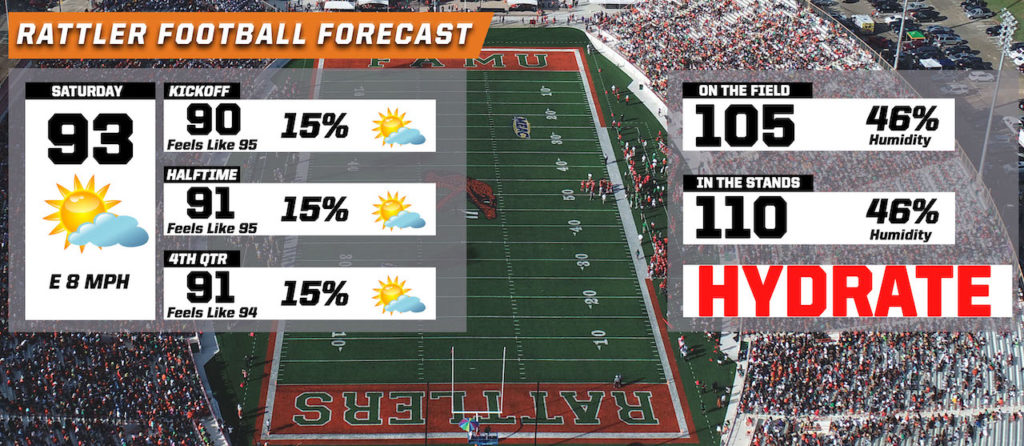 Follow Florida A&M Athletics
For complete coverage of Florida A&M athletics, please follow the Rattlers on social media at @FAMUAthletics (Twitter), /FAMUAth (Facebook), @famuathletics (Instagram) or visit the official home of Florida A&M Athletics at famuathletics.com.