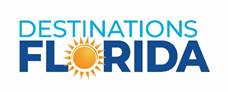 Florida Politics recently conducted an in-depth interview with Virginia Haley, president of Visit Sarasota County and chair of VISIT FLORIDA, regarding the need for tourism promotion at the state and local levels.
Haley describes the joint state and local tourism promotion efforts as a "classic funnel." She says you need a statewide tourism promotion organization such as VISIT FLORIDA to initially get potential visitors interested in coming to Florida. Then, the local tourism promotion agencies can take the pool of people interested in visiting Florida and work on encouraging them to visit their specific destination.
This level of statewide tourism promotion efforts also helps battle the "been there, done that" mindset some previous Florida visitors may have. By marketing fresh and diverse experiences in the state, Florida will be able to attract return visitors.
Haley addressed the importance of VISIT FLORIDA to small and medium-sized markets. For instance, her medium-sized destination recently participated in a major event in Toronto with Air Canada and VISIT FLORIDA. This is not something her DMO could afford to do or would have the resources to organize without the assistance of VISIT FLORIDA.
Additionally, VISIT FLORIDA played a critical role in assisting northwest Florida tourism promotion organizations following Hurricane Michael last year, which hit the state as a Category 5 storm a year ago tomorrow. Part of what VISIT FLORIDA did was get information out to consumers that helped them understand what parts of Florida were okay and open for business, and which were in recovery mode.
Read the full article below or click here.
---
Promoting the promoters: A conversation with VISIT FLORIDA Chair Virginia Haley
Sarasota executive says tourism depends on state partnerships.
VISIT FLORIDA last year got a reprieve from the budget block last session, but only through 2020. VIRGINIA HALEY, president of Visit Sarasota County, takes over as chair for the state's tourism marketing bureau at a critical and precarious time. We spoke to the longtime tourism leader about how to navigate the 2020 Legislative Session.
FLORIDA POLITICS: Why do Destination Management Organizations want to see visit Florida continue?
HALEY: If you look at tourism marketing, it's the classic funnel. We need first and foremost VISIT FLORIDA telling consumers why they need to come to Florida and the reasons to come to different parts of the state. Through the vibrancy of VISIT FLORIDA's website, we then use our money here in Sarasota to work through programs and retarget people who visited VISIT FLORIDA.
I have an easier time converting someone to show an interest in Sarasota who is at least is looking to Florida. The same can be said around the state. It's their role in getting people interested in Florida, and making sure we are keeping Florida top of mind and seeing things that are new and exciting about Florida. With a mature destination such as Florida, you have to be careful consumers don't have a "been there, done that" attitude. You always have to put a fresh and new diversity of experiences in front of consumers. That's the value VISIT FLORIDA does provide with everything, whether it's through advertising, bringing journalists here, being a leader at major trade shows, we have to be under that VISIT FLORIDA umbrella.
FP: What impact have these years of uncertainty had on Visit Florida?
HALEY: In terms of scrutiny and requests for transparency, I'm of the opinion we are stronger for it. We are happy that people are looking closely at what we do. But the amount of time everyone has to devote to answering questions, the uncertainty that it creates, it distracts the people who are in the trenches doing the work. They are human.
So last year you are working, wondering if you had funding issues. It's been like that for three or four years now. Last year knowing VISIT FLORIDA would cease to exist at the end of September, then having it renewed, but only through 2020? Their team is to be commended for the work they do in these circumstances. I'm not sure I could do it.
FP: As the head of a DMO, what would you do in the event lawmakers did allow Visit Florida to sunset and cease to exist?
HALEY: We'd have to start looking at what we are doing in lot of marketplaces. When we go in someplace under the VISIT FLORIDA umbrella, it makes it less expensive. We just did a major event in Toronto with Air Canada with VISIT FLORIDA. We couldn't do that on our own. We could try to do it with some colleagues.
But for Visit Sarasota County, we could not take on these increased costs for those events. Could we continue to develop our international markets? We know how valuable they are … But I don't know if we could go for those markets on our own.
FP: You work in a mid-size market. of course, Speaker José Oliva comes from a major city, Miami, that may have more ability to operate on its own. Is Visit Florida more valuable for mid-sized and small markets?
HALEY: I would say the mid-size and smaller markets may depend on [VISIT FLORIDA] more. But for instance in London, Disney was a big part of those promotions. Proportionately, mid-sized and smaller destinations may see greater value, but don't discount the fact VISIT FLORIDA's marketing committee this year is chaired by someone from Universal (FRANK BELZER). On our executive committee, there is a Disney executive (CLAIRE BILBY).
FP: On that note, should these private companies be supported by a state-funded agency? Can't we expect Disney and Universal to do their own marketing?
HALEY: I would not expect they are contributing more than we are, so they are paying in a greater share than the smaller destinations. 
FP: Heading into the legislative session, where do you expect the battle lines to be drawn over Visit Florida funding? Gov. Ron DeSantis since last session sounded more supportive of permanently funding the agency.
HALEY: I think we still have very strong support from Senate leadership. I think that if you allow this bill to be assigned to committees in the House, it could pass. It would certainly pass on the House floor.
Obviously the speaker has extremely strong opinions on this. He challenged us to show the value. I think we have been demonstrating that. We are showing our use. He wanted a leaner machine on a leaner budget. We are showing we can respond to that request. Is it ideal? No, but we are all collectively going to do as good a job as we can with the resources we are given. What has been going on so far shows that.
It's funny, I just came from a meeting of destinations in Florida. As we had our traditional session, talking about how is business, what is new, what's going on, everyone talked about some program that was important to them with VISIT FLORIDA. The Panhandle communities talked about all the help from VISIT FLORIDA from the hurricane. Those of us on the west coast in the last two years dealt with blue-green algae and red tide. The smaller counties on the east coast talked about an Atlanta promotion where VISIT FLORIDA helped out. They are not cookie cutter. They customize what we do in the state and that's why they are so valuable.
FP: We talk a lot about marketing, but you mention public benefits beyond tourism. How much does this agency help economies rebound after disasters?
HALEY: First of all, we have to work on public perception. We just talked about the Panhandle. Hurricane Michael hit a small portion of it and it hit that part very hard. But Destin was fine. Pensacola was fine. Part of what VISIT FLORIDA gets out there helps consumers identify everywhere was okay and everywhere that is in a recovery mode. That helps guide visitors. When you read it in the papers, you get idea the hurricane hit the entire Panhandle and wiped them out.
FP: And what of the areas that were hit?
HALEY: Usually what you have seen, like in case of Panama City Beach and Panama City, the ironic situation is the beaches were fine. The mainland where everybody lived was hit very hard. But once the local destination felt it was okay to do so, VISIT FLORIDA helped amplify messaging saying we are in recovery, and if you want to be supporting our community, the best thing you can do to help us is come back to our beaches.
FP: There certainly are those who remember past criticism over transparency and spending, the Pitbull contract comes to mind, which whether the amount was appropriate of not, many were bothered by the lack of disclosure. How do you assure lawmakers those problems are in the past?
HALEY: That is a true statement, and that situation illustrated also a disconnect. That contract was not reviewed by the VISIT FLORIDA Board of Directors. One of the steps now is we have agreements reviewed by the House and Senate. We now have a process in place so the executive committee reviews them at the same time. We have vowed the whole reason we need a board is to vet those things. We have been operating under transparency of this sort in Sarasota for 12 years, and it has made us stronger. That's a lesson learned. Now it's become ingrained into VISIT FLORIDA and it's part of the way we work.