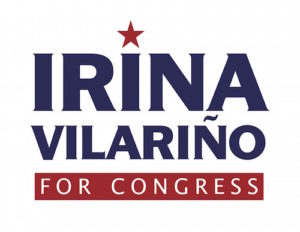 The Irina Vilarino for Congress Campaign today announced that she added another six figures to her already strong fundraising total for her congressional race for District 26. Key donors included former Congressman Lincoln Diaz-Balart and long-time Republican fundraising donors Jimmy Resnick, Marielena Villamil, Marili Cancio, Larry DeGeorge, James Tate and Rachel Sapoznik. They are an important addition to a list that includes virtually every major Republican donor in South Florida, solidifying Vilarino's status as the primary front-runner.
"I am grateful for the continued outpouring of support for our campaign," said Vilarino, a first-time candidate for Congress. "What we are showing is that Miami-Dade and the Keys desire representation in Washington that will advocate for our small businesses, working families and senior taxpayers and will not put the extremist left special interests above our community's."
Other key financial support for Vilarino comes Armando Codina, Gus and Liliam Machado, Vivian Williams, Remedios and Fausto Diaz and former US Senator Mel Martinez.
It should be noted that the incumbent Debbie Murcasel-Powell is raising her money mainly from the national liberal establishment, with more than 60% of her individual donations coming from outside of Florida and over 20% of her contributions coming from political committees. Vilarino's primary opponent has less than $90,000 cash on hand.
About Irina Vilariño for Congress
Irina Vilarino, a Republican and Cuban-American, has built a successful career expanding her family's restaurant business, which includes 15 restaurants across South Florida and more than 400 employees. Vilarino arrived in Florida from Cuba with her family as part of the Mariel boat lift in 1980 when she was a small child. An early and staunch supporter of President Trump, she's running on a platform of pro-growth policies like lower taxes and fewer regulations as well as secure borders and a tough stance against dictators like Nicolás Maduro and Raúl Castro. Vilarino and her daughter live in Miami, where they attend Epiphany Catholic Church.
The District 26 seat, currently held by Democrat Debbie Mucarsel-Powell, includes all of Monroe County and the Florida Keys, and parts of Miami-Dade County. Municipalities within District 26 include Homestead, Key Largo, Marathon, and Key West. The three National Parks in Florida—the Everglades, Biscayne, and the Dry Tortugas—are all within the district.
ON THE WEB:  www.Irina Vilarino.com
Paid for by Irina Vilariño for Congress