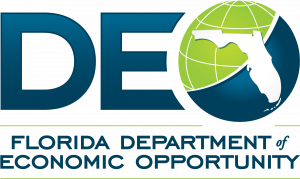 The Florida Department of Economic Opportunity (DEO) today announced the first three regional public workshops to seek input for the use of more than $633 million in first-of-its-kind funding for disaster mitigation projects in the areas impacted by hurricanes Hermine, Matthew or Irma. The U.S. Department of Housing and Urban Development (HUD) is providing the funding through the newly created Community Development Block Grant – Mitigation (CDBG-MIT) program.
Date: Tuesday, October 29
Time: 5 p.m.
University of North Florida
Adam W. Herbert University Center
Board of Trustees Room
12000 Alumni Drive
Jacksonville, FL 32224
Date: Wednesday, October 30
Time: 2 p.m.
Brevard County Government Center
County Commission Chambers
(Building C, First Floor)
2725 Judge Fran Jamieson Way
Viera, FL 32940
Date: Thursday, October 31
Time: 9:30 a.m.
Tampa Bay Regional Planning Council
4000 Gateway Centre Blvd #100
Pinellas Park, FL 33782
As a part of the federal requirements, DEO will conduct a series of public workshops as a part of the development of the State Action Plan, which will be developed in partnership with state agencies working on resiliency efforts, as well as with input from local communities and stakeholders to determine Florida's most critical disaster mitigation needs. The State Action Plan, once approved by HUD, will provide a high-level strategy for how the funding will be used to address eligible communities' disaster mitigation needs.
On August 23, 2019, HUD released mandatory guidance for the use of more than $633 million in funding for mitigation projects in eligible Florida communities. Publication of guidance in the Federal Register is necessary for DEO to begin drafting a state action plan, before sending it to HUD for approval by February 3, 2020.
About DEO
The Florida Department of Economic Opportunity combines the state's economic, workforce and community development efforts, expediting economic development projects to fuel job creation in competitive communities and promote economic resiliency. For more information, including valuable resources for employers and job seekers, please visit floridajobs.org.