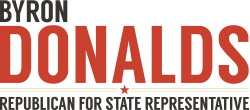 On stage at the Second Step Presidential Justice Forum in South Carolina,
Donalds praises President Trump's strong leadership on criminal justice reform.
State Representative Byron Donalds today presented the 2019 Bipartisan Justice Award to President Donald Trump, who was the keynote speaker at the Second Step Presidential Justice Forum in Columbia, South Carolina. Donalds, who represents District 80 in the Florida House of Representatives, is the Director of Political Outreach and Strategy of the 2020 Bipartisan Justice Center, the forum's host.
"President Trump's leadership on the issue of criminal justice reform has been tremendous," said Donalds. "From the beginning of his administration, he has clearly seen how important it is for us to take a good, hard look at the ways our justice system is failing both victims and offenders and make bold changes to balance the scales of justice. His presence at the forum today and the words he shared clearly communicate what a priority this is for him, and it was an honor to present him with this well-deserved award."
The 2020 Bipartisan Justice Center's mission is to empower local leaders to implement innovative and practical solutions to problems in the criminal justice system. It is the only nationwide coalition of Black Republicans, Democrats, and Independents focused on criminal justice reform. In addition to today's symposium, "The Conservative Case for Criminal Justice Reform," the conference will feature several Democratic presidential candidates at a candidate forum and town hall on Saturday.
Co-hosts of the Forum are Columbia Mayor Stephen K. Benjamin; National Black Police Association; African American Mayors Association; National Black Caucus, Local Elected Officials; and National Black Caucus of State Legislators.
About Byron Donalds for State Representative
Byron Donalds works in finance, insurance, and banking in Southwest Florida. Over the past five years, he has been a featured speaker on national and statewide policy and politics and is a regular guest on Daybreak with Drew Steele on 92.5 Fox News FM, The Bob Harden Show, and The Joe Whitehead Show on 98.9 WGUF. Donalds was appointed by Gov. Rick Scott to the Board of Trustees for Florida Southwestern State College, formerly Edison State College. He serves as a founding board member for a public charter school in Naples, an Advisory Board member for the Salvation Army of Collier County, and a youth leader at Living Word Family Church. In 2012, he carried Collier County in the Republican primary to succeed Connie Mack as U.S. Representative. Donalds graduated from Florida State University. He lives in Naples with his wife, Erika, and his three sons.
ON THE WEB:  ByronDonalds.com
Paid by Byron Donalds, Republican, for State Representative