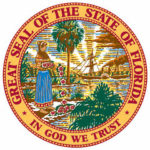 Secretary of State Laurel M. Lee today released the following statement providing an update on the paid petition circulator registration process.
"The Florida Department of State remains committed to doing everything we can to ensure individuals seeking to register as a paid petition circulator are able to do so quickly and efficiently. The petition process is very important, and we are working hard to ensure it continues as smoothly as possible.
"While the website is undergoing improvements, the Department continues to offer an alternative method for individuals to submit requests to register as a paid petition circulator or for those already registered who would like to circulate a new petition. Any initiative sponsors or individuals seeking information on the alternative registration process can contact the Department of State directly at [email protected].
"The Department has dedicated additional staff to assist with the alternative registration process and it is working smoothly. At this time, all applications have been processed and the Department is continuing to quickly process applications as we receive them.
"The Department is continuing to work to improve the operability of the paid petition circulator website, and we will inform initiative sponsors and the public once the website is available. Our top priority is ensuring the operational issues with the website are fully resolved, and in the meantime the petition process is able to continue without delay."