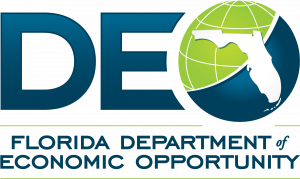 The Florida Department of Economic Opportunity (DEO) today announced the upcoming schedule of regional public workshops to seek community input for the use of more than $633 million in first-of-its-kind funding for disaster mitigation projects in areas affected by Hurricanes Hermine, Matthew or Irma. The U.S. Department of Housing and Urban Development (HUD) is providing this funding through the newly created Community Development Block Grant – Mitigation (CDBG-MIT) program.
LEE COUNTY
Date: Monday, November 4
Time: 3:00 p.m.
Location: North Fort Myers Public Library, Meeting Room AB
2001 N. Tamiami Trail
North Fort Myers, FL 33903
MIAMI-DADE COUNTY
Date: Tuesday, November 5
Time: 2:00 p.m.
Location: Town of Cutler Bay
Council Chambers
10720 Caribbean Boulevard, Suite 115
Cutler Bay, Florida, 33189
PALM BEACH COUNTY
Date: Wednesday, November 6
Time: 1:00 p.m.
Location: South Florida Water Management District
3301 Gun Club Road, B-1
West Palm Beach, FL 33406
MONROE COUNTY
Date: Thursday, November 7
Time: 2:00 p.m.
Location: City of Marathon
Council Chambers
9805 Overseas Highway
Marathon, Florida 33050
Per federal requirements, DEO is conducting a series of public workshops to gather input from local communities and stakeholders to determine Florida's most critical disaster mitigation needs. DEO will use this information to develop a State Action Plan in partnership with state agencies working on resiliency efforts. The State Action Plan, once approved by HUD, will provide a high-level strategy for how the funding will be used to address eligible communities' disaster mitigation needs. The State Action Plan is due to HUD for approval by February 3, 2020.
About DEO
The Florida Department of Economic Opportunity combines the state's economic, workforce and community development efforts, expediting economic development projects to fuel job creation in competitive communities and promote economic resiliency. For more information, including valuable resources for employers and job seekers, please visit floridajobs.org.