New research at the Florida Industrial and Phosphate Research Institute (FIPR), a research entity within Florida Polytechnic University, could produce new sources of rare earth elements in the U.S. The research is a result of a new collaboration with Critical Materials Corporation (CMC), based in Jacksonville, Florida.
Rare earths are specialized minerals used in the production of many high-tech goods including electric cars and a wide range of consumer electronics. China currently is the largest producer of rare earth minerals used in the United States.
FIPR and CMC signed a three-year, $876,000 agreement to initiate the partnership on Nov. 1, 2019.
"We are pleased at the opportunity to work closely with CMC and FIPR, which both have decades of practical experience and extensive contacts in the industry," said Dr. Terry Parker, provost and executive vice president of Florida Poly and executive director of FIPR. "I am hopeful this collaboration will establish proof of concept for a rare earth extraction plant in the United States using U.S. sourced materials."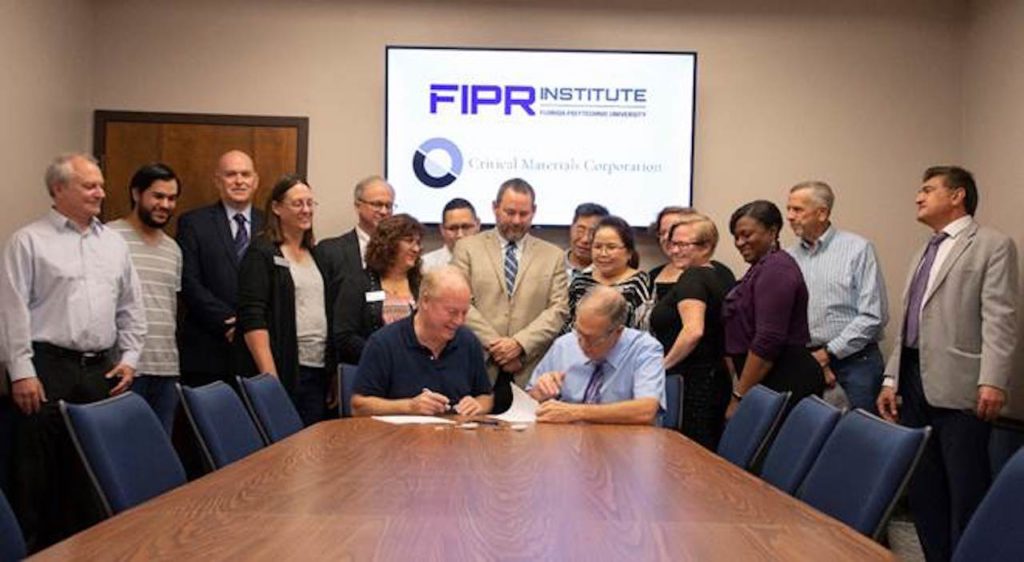 Leaders from Critical Materials Corporation and the Florida Industrial and Phosphate Research Institute signed an agreement Nov. 1 to pursue research to develop new sources of rare earth elements, which are used in the production of high-tech goods.
Dr. Jim Mennie, FIPR's business director, said that in addition to providing a new source of these rare materials, the new research could have a significant economic impact in the region.
"This collaboration creates a new supply chain in Central Florida which would provide new revenue and jobs, as well as these rare elements that we need to build high technology electronic products," said Mennie.
CMC will be co-locating with and conducting its research at FIPR's lab in Bartow. Tom Currin, CMC's chief operating officer, said this will create additional revenue for FIPR and more research opportunities for Florida Poly students.
"Our goal is to prove the basic science in the lab and then construct first a demonstration plant, and then a commercial rare earth separation plant in the Lakeland vicinity," Currin said. "This will generate local training and employment opportunities, adding to the local employer tax base."
About FIPR Institute
The Florida Industrial and Phosphate Research Institute (FIPR Institute) is a legislatively created research institute within Florida Polytechnic University. Since its inception as the Florida Institute of Phosphate Research in 1978, FIPR has developed into a world-class research entity specializing in phosphate-related issues and industrial applied science and engineering. In 2010, FIPR broadened its research program to include non-phosphate topics. Connect with FIPR Institute.
About Florida Polytechnic University
Florida Polytechnic University is accredited by the Southern Association of Colleges and Schools Commission on Colleges and is a member of the State University System of Florida. It is the only state university dedicated exclusively to STEM and offers ABET accredited degrees. Florida Poly is a powerful economic engine within the state of Florida, blending applied research with industry partnerships to give students an academically rigorous education with real-world relevance. Connect with Florida Poly.