Team of Experts Work Collaboratively to Help Key Endangered Species
A team of experts, led by the Florida Fish and Wildlife Conservation Commission, are working together to care for a pair of endangered Florida panther kittens orphaned after their mom suffered from an unknown neurological disorder affecting panthers and bobcats. The kittens are being cared for at ZooTampa at Lowry Park, one of the state's top facilities for the rehabilitation of this endangered Florida species.
"We appreciate the support of the public and their concern for these kittens, who just received their latest examinations in a series of checkups," stated Dr. Lara Cusack, veterinarian at FWC's Research Institute, "While veterinarians cannot predict to what degree the kittens may become affected, they are currently active, playful, and healthy overall."
ZooTampa is already home to three panthers that are unable to survive on their own in the wild due to injury or illness. The kittens were living at the Zoo's state-of-the-art Tiedemann-Cotton Animal Care Annex, and are now being housed at the Catherine Lowry Straz Veterinary Hospital. Once they are out of quarantine and receive health clearance from the medical team, the Zoo plans to place them on public view where they can serve as ambassadors for their species.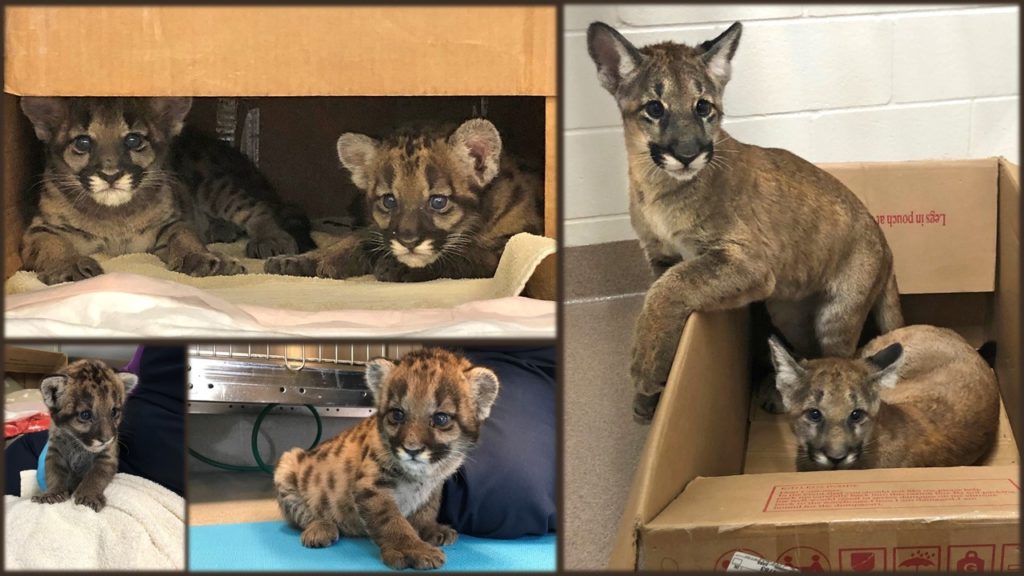 Photos by FWC and BluePearl
Bottom left: Approx. 2 weeks old
Top right: Approx. 5 months old
In July, Florida Fish and Wildlife Conservation Commission trail cameras in Collier Count caught sight of the kittens' mother, a radio-collared panther, struggling to walk. With her young kittens unlikely to survive in the wild, FWC removed them for observation and testing. Their mother's health deteriorated and she was humanely euthanized. FWC, the Zoo and its partners appreciate the public's outpouring of support for these panthers and are hopeful the mother's necropsy results and extensive diagnostic testing will help experts determine what's causing the condition.
"We are deeply committed to the conservation of our state's endangered wildlife and helping people understand their role in protecting these animals," said Dr. Cynthia Stringfield, senior vice president of animal health, conservation & education, "We are proud of our collaboration with Florida Fish and Wildlife Conservation Commission, BluePearl Animal Specialty Hospital of Florida and University of Florida's College of Veterinary Medicine to save each one of these amazing animals." The kittens will remain at ZooTampa until a permanent home is identified.
About ZooTampa at Lowry Park
ZooTampa at Lowry Park is operated by the Lowry Park Zoological Society, an independent 501(c)(3) charitable organization committed to excellence in conservation, education, recreation and research. The Zoo is accredited by the Association of Zoos and Aquariums (AZA) and is featured among the "Top 25 Zoos in the U.S" by TripAdvisor (2015). The Zoo is located at 1101 W. Sligh Avenue in Tampa, and is open seven days a week, from 9:30 a.m. to 5 p.m. with extended hours for select events. Parking is free. For more, visit zootampa.org. Also, find the Zoo on Facebook, Instagram and Twitter.