A team of Florida Poly students is charging head-on into the design and construction of a real planetary rover that one day could traverse the terrain of Mars, collecting samples and providing a close-up look at places that have always been a mystery.
The 14-member team is developing the rover for the Florida Space Institute. The project is part of Florida Polytechnic University's yearlong capstone design program, which pairs teams of seniors with corporate and research partners to tackle real-world engineering projects.
"You're getting actual work experience and working with someone who is a professional in the field and really wants the project to work," said mechanical engineering major Gabe Gamet. "I personally think this is absolutely amazing."
Gamet is lead of the mechanical engineering portion of the team working on the planetary rover and was among five team members who visited Kennedy Space Center in mid-October to discuss their work with NASA engineers. Electrical engineering and computer science students make up the other two portions of the team.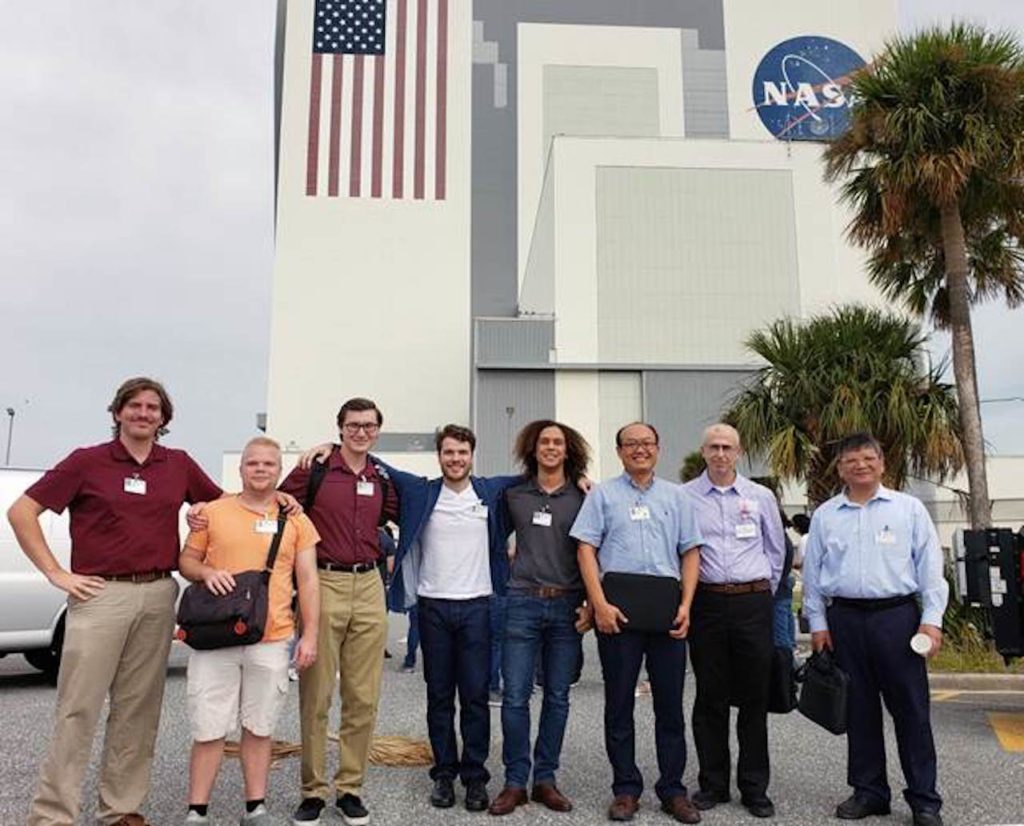 Florida Polytechnic University students Edward Davis, left, Brandyn Langston, Skyler Batteiger, Gabe Gamet, and Purcell Anderson, and faculty members Dr. Younggil Park, Dr. Onur Toker, and Dr. Feng-Jen Yang visit Kennedy Space Center as part of a team collaborating on a capstone project designing a planetary rover for the Florida Space Institute.
"Talking to these engineers who work on all these crazy projects on a daily basis changes the way you think about a large-scale project like this," said mechanical engineering senior Purcell Anderson. "They definitely opened our eyes to what we are capable of and how we can approach this challenge."
The students remain in communication with NASA engineers as they create the rugged, multi-purpose rover, which will be adaptable for many uses such as drilling, sample collection, observation, and more.
"Creating a rover takes all disciplines," said mechanical engineering professor Dr. Younggil Park, one of the project's faculty mentors. "It's not going to be located on this planet, so students have to learn a lot to meet the requirements."
As the design team works toward a solution, they are sifting through a number of parts from a different university that previously tackled the project. The Florida Poly students are now working to find ways to incorporate many of these components into their design.
For the most recent university news, visit Florida Poly News.
About Florida Polytechnic University
Florida Polytechnic University is accredited by the Southern Association of Colleges and Schools Commission on Colleges and is a member of the State University System of Florida. It is the only state university dedicated exclusively to STEM and offers ABET accredited degrees. Florida Poly is a powerful economic engine within the state of Florida, blending applied research with industry partnerships to give students an academically rigorous education with real-world relevance. Connect with Florida Poly.