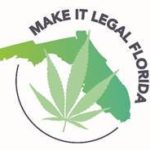 According to a new survey, 67 percent of Americans say marijuana should be legal, with the share of U.S. adults who oppose legalization falling from 52 percent less than 10 years ago, to only 32 percent today.
The survey, conducted by the Pew Research Center, also outlined the growing bipartisan support adult-use has, with 78 percent of Democrats and 55 percent of Republicans supporting legalization.
Recent polls in Florida also show perceptions on adult-use in marijuana are changing. In June, a Quinnipiac poll showed bipartisan support for adult-use. A poll conducted in July by Fabrizio, Lee & Associates commissioned by Make it Legal Florida showed that 67 percent of likely Florida voters support adult-use marijuana. And more recently in October, a University of North Florida poll released showed 64 percent of Florida voters supporting adult-use.
"Three separate statewide polls show Florida voters across party lines overwhelmingly support adult-use legalization," said Nick Hansen, Chairman of Make it Legal Florida. "Perceptions of cannabis are changing and Floridians are now, more than ever, calling for the legalization of adult-use marijuana. Make it Legal Florida's proposed amendment is poised to allow Florida voters the opportunity to expand access in 2020."
Make it Legal Florida officially reached the threshold of judicial review and currently has more than 100,00 signatures that have been validated by the state. More than 300,000 signatures have been mailed to Supervisors of Elections around the state and are waiting to be validated.
View the full poll results HERE.