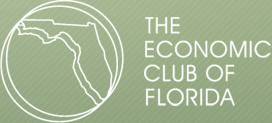 Dr. Harry Holzer, noted Georgetown University economist and former Chief Economist at the U.S. Labor Department, will the join the Economic Club of Florida this Friday, November 22 at noon to talk about the effects of immigration on the U.S. labor market.
"Over most of his distinguished career, Professor Holzer's research has focused primarily on the low-wage labor market and particularly the problems of minority workers in urban areas. We're looking forward to him helping connect the dots on recent immigration policies," said Club President Cindy O'Connell.
The Club meets at the FSU Alumni Center Ballroom, 1030 W. Tennessee Street in Tallahassee. The Club's luncheon begins at 11:15 am, with Dr. Holzer speaking from noon to 12:45 pm and members' questions to follow. Non-member guests are very welcome to attend. There is a $30 entry fee which includes the buffet lunch. Please RSVP to Michael Vincent at 850-906-9226 ext. 108, or by email at [email protected].
The Economic Club of Florida is the South's leading forum for speakers of regional and national distinction to discuss the major issues of the day. On the web at economic-club.com.
More About our Featured Speaker:
Dr. Harry J. Holzer is the John LaFarge Jr. SJ Professor of Public Policy at Georgetown University and an Institute Fellow at the American Institute for Research in Washington DC. He is a former Chief Economist for the U.S. Department of Labor and a former Professor of Economics at Michigan State University. He received his BA from Harvard in 1978 and his Ph.D. in Economics from Harvard in 1983. He is also a Non-Resident Senior Fellow at Brookings, a Research Affiliate of the Institute for Research on Poverty at the University of Wisconsin-Madison, an Affiliated Scholar with the Urban Institute, and a member of the editorial board at the Journal of Policy Analysis and Management. Holzer has authored or edited 12 books and several dozen journal articles, mostly on disadvantaged American workers and their employers, as well as on education and workforce issues and labor market policy.
Media interested in covering Dr. Holzer's presentation should contact Mike Vincent at 850-906-9226, ext. 108.