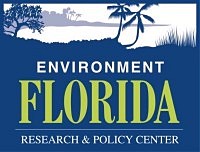 Environment Florida Research & Policy Center
highlights offshore oil drilling's onshore effects
Plans to expand drilling off the coast of Florida could have significant negative impacts onshore, according to a new report released today by Environment Florida Research & Policy Center. From pipelines running through sensitive coastal habitats to air pollution released by oil refineries, Offshore Drilling, Onshore Damage: Broken Pipelines, Dirty Refineries and the Pollution Impacts of Energy Infrastructure highlights how onshore industrial infrastructure created for offshore drilling damages our environment in a variety of ways.
"We want to visit clean beaches, smell the ocean breeze, and admire the marine life off our coast — not avoid pipelines, choke on pollution from oil refineries, and contend with oil barges," said Jenna Stevens, state director for Environment Florida Research & Policy Center. "Drilling off our beautiful Florida coasts may seem a distance from our homes and businesses, but the onshore infrastructure necessary to drill for dirty fossil fuels creates a pressing threat to the health of both our ecosystems and so many Floridians."
In areas with offshore drilling, pipelines running from offshore rigs to inland processing facilities can worsen estuaries' water quality and increase the likelihood of oil spills across beaches, according to the report. In addition, toxic waste brought onshore from drilling operations can pollute drinking water and tracts of land. Beyond those issues, air pollution from oil refineries also threatens local residents' health in communities near current offshore drilling operations.
Expanding offshore drilling, as the Trump administration proposed last year, could lead to new polluting infrastructure in previously pristine coastal areas, where communities have long been able to avoid this type of industrialization. Florida voters did pass a ban on offshore drilling in state waters in 2018, but the state constitutional amendment did not prohibit oil and gas infrastructure that carries fossil fuels pumped from federal waters to Florida's shores.
The Trump administration increased the likelihood of more drilling in January 2018, when it released a plan to open more than 90 percent of America's oceans to oil and gas drilling, including off Florida's coast. The plan, temporarily on hold, would be an unprecedented expansion of drilling, and faces stiff opposition, including from Gov. Ron DeSantis and most of Florida's congressional delegation.
"Whether it causes oil spills off our coast or pollution on our shores, offshore drilling is dirty and dangerous," said Kelsey Lamp, co-author of the report and oceans advocate for Environment Florida Research & Policy Center. "We know the risks, but must act to address them or suffer dire consequences to the health and beauty of our coastlines and so many communities."
Environment Florida Research & Policy Center is a 501(c)(3) organization dedicated to protecting Florida's air, water and open spaces. We investigate problems, craft solutions, educate the public and decision-makers, and help people make their voices heard in local, state and national debates over the quality of our environment and our lives.