For the first time, students and alumni will have representation on the Florida Polytechnic University Foundation Board of Directors. Travis Hills '19 and senior Ryan Perez are the new members of the Foundation Board after the University's Board of Trustees confirmed the appointments on Wednesday, Dec. 11.
"It is important that we have a closer touch with the student experience in their words," said Alice Hunt, Foundation chair. "I would like to hear thoughts and opinions from these bright minds. I hope we can share our connections and commitments with them as well."
Hills, who graduated in spring 2019 with a bachelor's degree in computer science, said he is excited to offer a fresh perspective to the Foundation Board. He also wants to help the Board develop innovative ways to support the University and its mission. For him, it is personal.
"My education was possible thanks to a Florida Poly scholarship," said Hills, who now works as a systems security analyst for Saddle Creek Logistics Services. "I know firsthand the impact University support has in assisting students financially through their college career."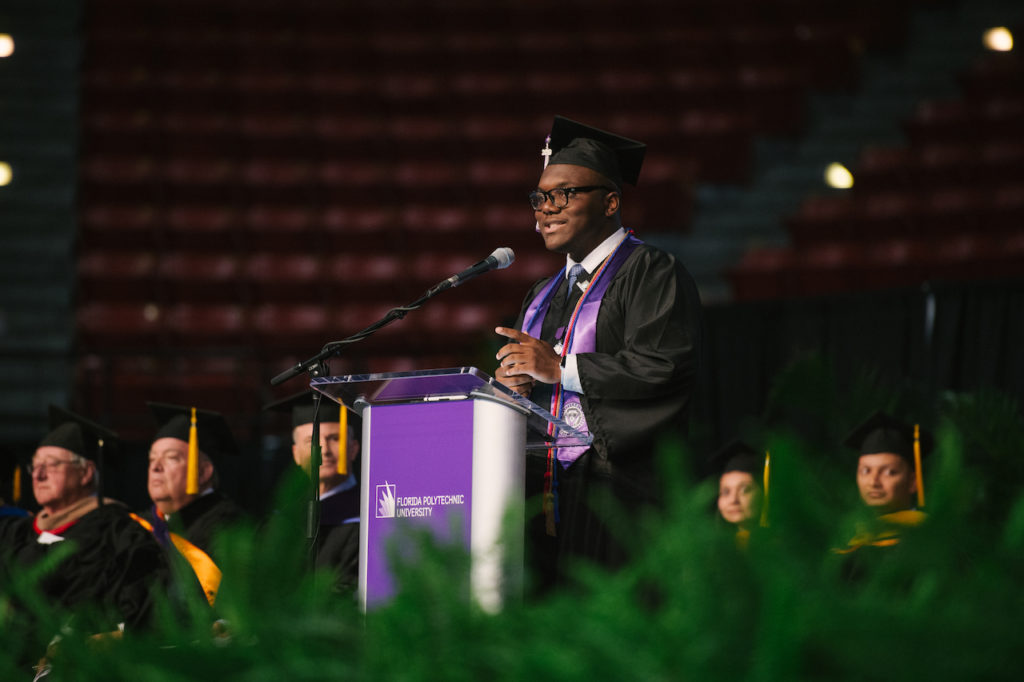 Travis Hills '19 is the first alumni to become a member of the Florida Polytechnic University Foundation Board of Directors. He was the commencement speaker at Florida Poly's spring 2019 graduation.
Perez, a senior majoring in mechanical engineering, is the current Student Government Association (SGA) president and also serves as a member of the Florida Poly's Board of Trustees.
Hills and Perez will participate in the next Foundation Board meeting, scheduled for Jan. 24, 2020.
The other members of Florida Poly's Foundation Board of Directors are community leaders and industry experts who see the potential to fuel dreams, boost the economy, and cement Florida Poly's position as a high-tech leader. The Foundation Board works closely with University leadership to align fundraising efforts with Florida Poly's plan for the future.
"The big picture is that as we bring new minds to the Foundation, we can all work together to fundraise and continually elevate the University to bigger and better successes," Hunt said.
For the most recent university news, visit Florida Poly News.
About Florida Polytechnic University
Florida Polytechnic University is accredited by the Southern Association of Colleges and Schools Commission on Colleges and is a member of the State University System of Florida. It is the only state university dedicated exclusively to STEM and offers ABET accredited degrees. Florida Poly is a powerful economic engine within the state of Florida, blending applied research with industry partnerships to give students an academically rigorous education with real-world relevance. Connect with Florida Poly.