Equality Florida's Transgender Inclusion Program, TransAction Florida, is excited to announce its statewide advisory council composed of transgender and nonbinary leaders from all parts of Florida.
The TransAction Florida Advisory Council will develop statewide strategy, advocate, educate, and work to advance transgender equality. Council members will also serve as knowledgeable spokespeople for the community while supporting state and local initiatives in support of Florida's gender diverse population.
The 2020 TransAction Advisory Council Members:
Lakey Love, Tallahassee
Katherine Lane, Tallahassee
Kent Marrero, Jacksonville
Nathan Bruemmer, St. Petersburg
Lucas Wehle, St. Petersburg
Prin Ocea, Tampa (Youth Liaison)
Nikole Parker, Orlando
Ashley Figueroa, Orlando
Gina Duncan, Orlando (Chair)
Tobias Packer, South Florida
The TransAction Advisory Council will be responsible for:
Serve as effective media relations advocates statewide
Develop strategy and mobilize state and local trans/enby initiatives
Advocate for state and local LGBTQ inclusive public policies
Serve as trans/enby cultural competency educators
Interface with all other program areas of Equality Florida to advance trans/enby rights and protections
Ensure that transgender and nonbinary inclusion is woven into all aspects of our work at Equality Florida
Bios and headshots of each Advisory Council members can be found HERE.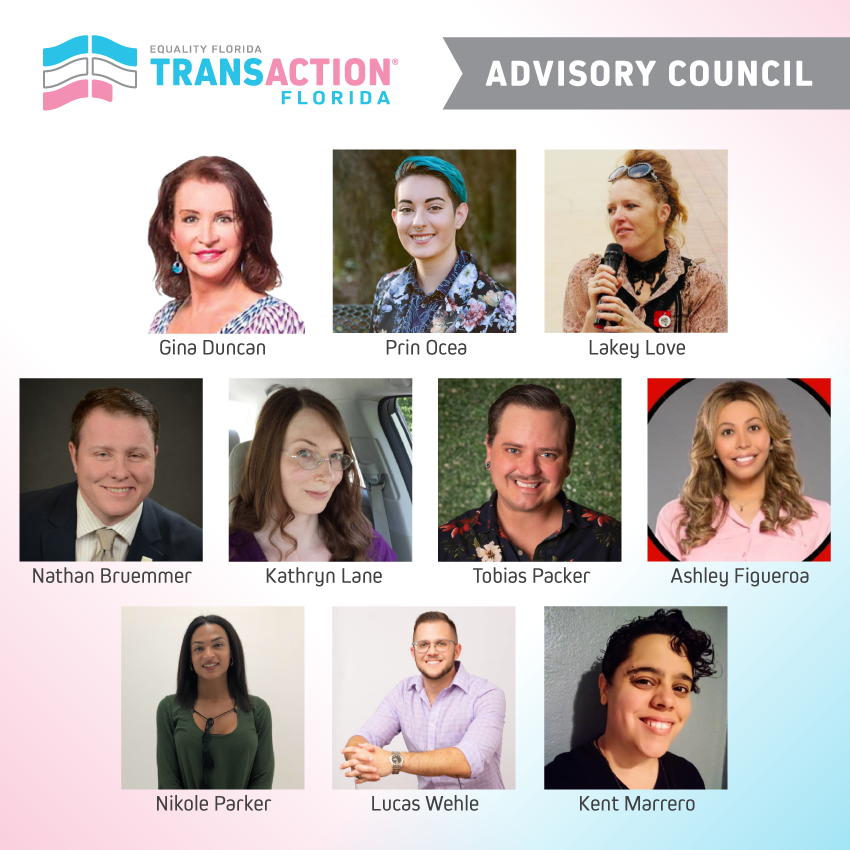 Equality Florida is the largest civil rights organization dedicated to securing full equality for Florida's lesbian, gay, bisexual, transgender and queer (LGBTQ) community. Through education, grassroots organizing, coalition building, and lobbying, we are changing Florida so that no one suffers harassment or discrimination on the basis of their sexual orientation or gender identity.​​​​​​​