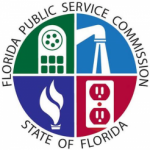 The Senior Service Center in Cross City helps Dixie County seniors stay informed and connected. Like the nearby Coastal Highway 19/98 that conveniently connects Cross City to Florida destinations, the Center connects Dixie County seniors to vital services through its many programs.
The Center recently helped the Florida Public Service Commission (PSC) connect with its seniors by hosting some educational events. For the Center's willingness to be an extra pair of hands, the PSC is recognizing them with this quarter's Helping Hand Award.
Each quarter, the PSC highlights a partner agency or organization whose clients are eligible for the federal Lifeline Assistance telephone/broadband discount program or need help reducing energy and water bills. Through these PSC Helping Hand partnerships, the Commission shares information to help consumers avoid scams and stretch their resources to meet monthly bills.
"We work with so many great volunteers, like the PSC, who visit and encourage our seniors to connect with programs and services that support their needs and abilities," said Janis Owen, director of senior services for Suwanee River Economic Council, Inc. (SREC). "We appreciate the PSC's visits at our various SREC senior centers to provide clientele with information about Lifeline, about their utility services, and about scam awareness and protections."
The PSC schedules events year round to reach those who can benefit from information on hurricane preparedness, scam protections, and energy and water conservation. Look for this year's PSC Helping Hand outreach partner recognitions on the PSC's homepage, floridapsc.com, under Hot Topics.
About the Dixie County Senior Service Center
The Center is open to seniors 60+. Center hours are 8 a.m. to 5 p.m., Monday through Friday, with meals served. For more information, please call 352-498-5018.
For additional information, visit floridapsc.com.
Follow the PSC on Twitter, @floridapsc.