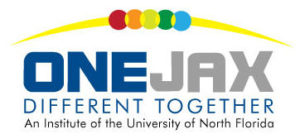 OneJax, an institute of the University of North Florida, has announced the recipients of its 2020 Humanitarian Awards. The honorees will be recognized at the Humanitarian Awards Dinner 6:45 p.m. Thursday, May 7, at the Prime Osborn Convention Center, located at 1000 Water St., downtown Jacksonville. A 5:30 p.m. reception will take place prior to the event.
The OneJax Humanitarian Awards honor those who have demonstrated the highest level of personal and professional integrity, have given generously and extensively to our community and have been dedicated to the improvement of human relations among diverse groups. This year's event will also acknowledge and celebrate the 50th anniversary of the OneJax organization and the awards dinner.
"This is a very special year and event for us," said Nancy Broner, OneJax executive director. "We have a group of incredibly deserving and passionate people who are making a positive impact on our city. The honorees represent a cross-section of people doing meaningful work to make an immeasurable impact on the lives of so many in Northeast Florida."
The 2020 awards honorees are as follows:
Silver Medallions:
Dr. Jeffrey Levenson, co-developer and coordinator of Jacksonville's Gift of Sight; president of Vision is Priceless; chief medical officer of SEE International
MaliVai Washington and Terri Florio, MaliVai Washington Youth Foundation, founder and executive director respectively
Melanie Patz and Lynn Sherman, co-chairs of the Jacksonville Community Remembrance Project; leaders of 904Ward
Michael Ward, co-founder of the Michael Ward and Jennifer Glock Foundation; retired CEO of CSX
"This year's honorees reflect the longstanding efforts of OneJax to achieve civility, understanding and respect for all through education, dialogue and community-building," said Connie Hodges, OneJax board chair. "The impact of this group of leaders has been felt and realized throughout our community—and beyond. They embody the spirit of the OneJax commitment."
Sponsorships for the Humanitarian Awards Dinner are available and may be obtained by contacting OneJax at (904) 620-1529 or [email protected]. Tickets for the event are available via the website.
Since 2012, OneJax has been an institute of UNF. Through education, community building and advocacy, OneJax works to make Northeast Florida a better place for everyone by celebrating differences and identifying all we have in common.
UNF is a nationally ranked university in Jacksonville, Florida, that is nestled on a beautiful 1,300-acre nature preserve, featuring six colleges of distinction as well as nationally recognized flagship programs, with 56 bachelor degree programs and over 75 areas of concentration.