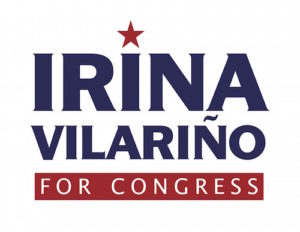 In light of the expected announcement that Carlos Gimenez will enter the race for Florida's Congressional District 26, Irina Vilarino issued the following statement today:
"I welcome Carlos to the race and I look forward to debating him. I know that Republican voters will want to learn how a person who endorsed Hillary Clinton in 2016, and wanted to leave the Republican party in 2014 will have the conviction to defend the policies that are vital for the prosperity of our country and our community.
I welcome the opportunity to contrast my record of creating jobs in the private sector and defending conservative principles with Gimenez's record of double dipping government pensions, cronyism and corruption. People are tired of career politicians who are constantly on the prowl for the next taxpayer-funded gig. Now, more than ever, Congress needs members who will effect change and fight with conviction – not politicians looking to grow their government pensions and expand their insider relationships.
What's worse is that time and time again – from Odebrecht to China dealings to cruise ships to Cuba – Carlos Gimenez has betrayed our community and our principles. We will be sharing my ideas and vision with Republican voters and have no doubt that when they have the opportunity to compare, they will conclude that I am best suited to defeat Debbie Muscarsel-Powell in November."
Irina will be available for statements to the press regarding Gimenez's entry into the race. You may contact us via [email protected] or call 305-358-0110 to schedule an interview.
Irina's campaign released web videos in English and Spanish highlighting why Irina is running for Congress and what's at stake in the 2020 election. To view the video, click HERE.
About Irina Vilariño for Congress
Irina Vilarino, a Republican and Cuban-American, has built a successful career expanding her family's restaurant business, which includes 15 restaurants across South Florida and more than 400 employees. Vilarino arrived in Florida from Cuba with her family as part of the Mariel boat lift in 1980 when she was a small child. An early and staunch supporter of President Trump, she's running on a platform of pro-growth policies like lower taxes and fewer regulations as well as secure borders and a tough stance against dictators like Nicolás Maduro and Raúl Castro. Vilarino and her daughter live in Miami, where they attend Epiphany Catholic Church.
The District 26 seat, currently held by Democrat Debbie Mucarsel-Powell, includes all of Monroe County and the Florida Keys, and parts of Miami-Dade County. Municipalities within District 26 include Homestead, Key Largo, Marathon, and Key West. The three National Parks in Florida—the Everglades, Biscayne, and the Dry Tortugas—are all within the district.
ON THE WEB:  www.IrinaVilarino.com
Paid for by Irina Vilariño for Congress